January 18, 2021 –
Companies have goods to store, both large and small, and there are plenty of options available to accommodate them. Carousels and vertical lift modules (VLMs) are two efficient inventory-storing Automated Storage and Retrieval Systems (AS/RS) that are very similar while being very different at the same time.
The term "carousel" is often used generically to describe both carousels and VLMs but a VLM isn't technically a carousel.
The surface similarities are that both systems are storage machines that do an excellent job of leveraging a facility's vertical space to densely store inventories onto a very small footprint of floor space. One of the most popular benefits of these units is to reclaim valuable floor space that is currently taken up by shelving and allow for more revenue-producing activities to be performed in that space.
In addition to both solutions compressing the cubic space of inventories, they address issues related to inventory control, picker-safety/ergonomics, and order fulfillment throughput and accuracy. Both systems also are adaptable to order-processing software for maximizing picking and storing efficiencies.
The differences lie in what happens inside the walls of the two goods-to-person machines that ultimately create a method of delivering the inventory to the person who needs it, at an ergonomic, waist-high access opening.
How Does Each Work?
The VLM is made up of three vertical chamber sections within the machine. They are arranged such that there are two vertical chambers for storing the inventory storage trays in the front and rear of the machine. The third chamber is located between them and it serves as the storing and retrieving elevator shaft. This middle section allows for the tray extractor device to travel up and down the height of the machine to retrieve or store any tray in the machine. Once it has the tray, it delivers it to the operator access area.
The vertical carousel is comprised of a loop of connected shelves called carriers that rotate within the machine. Picture a carnival's round Ferris wheel that has been pushed into a vertical oval shape. The carriers are interconnected with each other in fixed positions. During operation, the carriers rotate in the direction that provides the shortest distance to the operator's access opening. These carriers would all have the same size openings for storage while some could have shelves to further compartmentalize the inventory.
Quick Comparison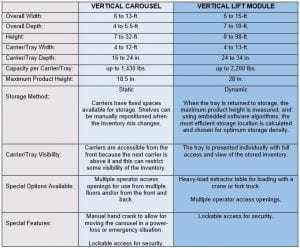 What About Order-Fulfillment Efficiency and Accuracy?
When throughput-efficiency and pick-accuracy are critical performance milestones, both the vertical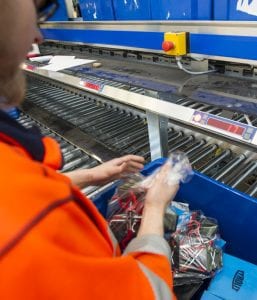 carousel and the VLM can be enhanced by deploying additional features and operational techniques. Pick-to-Light features are visual aids that guide the picker to the part location to further increase the picker's speed and accuracy. Inventory-optimizing software is used to control the pick-to-light hardware while being used to improve the order-picking process by assisting with inventory control and creating the most efficient storage layout with regards to product flow rates, etc. Batching processes and techniques also can be used to process multiple orders more efficiently than individual orders. Slotting techniques use data analytics to configure the most expedient inventory locations to take advantage of parts that are frequently picked together or that are seasonal, etc., minimizing the machine's travel time. With these enhancements, both styles are very capable of high levels of efficiency and accuracy with similar levels of throughput.
Which System is Best for Your Application?
This will be dependent on several things. One key factor is space. The available vertical height along with footprint restrictions will be an essential set of parameters. Your product mix also will play a pivotal role as the inventory size, weight, and fluctuation over time may determine that one style is better than the other. In many cases, a cube-review is conducted by a storage specialist to determine which style will hold more of your specific inventory.
Ready to resolve your inventory storage challenges with a vertical carousel or a VLM? Contact an experienced material handling provider in your area to discuss your needs and intentions. They will be able to confirm which unit will be the most effective for your operation and help you through the complete process towards ownership, including installation and service.