In today's business environment, you need mobility that traditional equipment procurement methods just don't offer.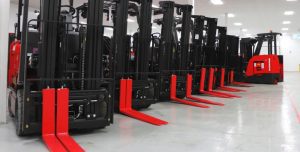 Forklift Truck Rentals and Equipment Leasing
Abel Womack's Forklift Truck Rentals and Leasing Programs offer alternatives that reduce term commitments, keep capital fluid, and even offer the ability to exchange equipment if your equipment requirements change.
Single monthly invoicing includes full maintenance coverage, which allows you to focus on your own business. You'll benefit by reducing administrative efforts and removing unexpected repair costs from your operating budgets. We seek to understand your unique business challenges and apply our considerable resources, experience, and creativity to designing programs that get you the equipment you need only when needed, and at the lowest possible cost.
Flexible Financing and Equipment Options for Your Forklift Fleet
Short-Term Lift Truck Rentals
Quick delivery from our warehouse fleets in Lawrence, MA, Wallingford, CT, and Edgewood, NY, of over 800 forklift trucks.
Long-Term Forklift Rentals
Supplement your lift truck fleet at significantly reduced rates for requirements that don't justify a long-term commitment.
Usage Programs
Reduced term commitments on state-of-the-art forklift equipment at a monthly cost competitive with traditional five-year leasing.
Certified Pre-Owned Forklift Equipment
Reduce capital expense by supplementing your fleet with late model Raymond® lift trucks.
Rent-to-Own Lift Trucks
Term rental with customized buy-out options.
Let us know if you need special application requirements such as:
Wire Guidance
Maximum Height Elevations
Contact our Rental Department today for more information on lift truck rental, leasing options, and our current rental special.