INTRODUCTION AND SCOPE
It is very important to us that we get things right.  Our Customer Service Policy has been established to be reflective of our shared values. These values set forth basic principles for working with our customers, and include INTEGRITY, EMPATHY, CUSTOMER CARE, PASSION and TEAMWORK.
Our commitment to high standards is reinforced in this Customer Service Code of Conduct. Customer Service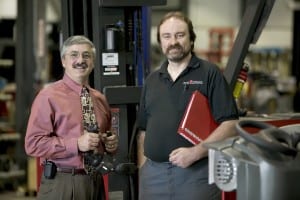 is really about human dynamics and communication. It goes far beyond the technical aspects of product or service offerings. The real differentiator is people. We want you, our customers and suppliers, to be able to trust us, confident that our decisions and procedures are ethical and beyond reproach.
This code provides clear direction on conduct expected in support of our customer. It applies to all employees, contractors and others acting on behalf of Abel Womack.
CUSTOMER SERVICE CODE OF CONDUCT
Abel Womack expects the highest possible standards of integrity and conduct in all matters. True partnership with our clients is our mantra, supported by the following Code of Conduct:
We put you, the customer, first. Your concerns are taken very seriously, with the appropriate sense of urgency, attention and empathy. This means listening intently, making notes, and confirming understanding before taking action. Issues that are unable to be resolved immediately will be escalated to a manager for timely resolution.
We embrace your complaints as opportunities to impress you. Instead of reacting defensively, we commit to resolving your issue or request with urgency, clarity, and to your complete satisfaction.
We provide honest responses, and do not make promises we cannot keep. We conduct ourselves with integrity. We will deliberate carefully before making commitments or promises, because we understand nothing annoys customers more than a broken one.
We demonstrate thorough knowledge of Abel Womack's products and services so that we can address your unique situation with optimal solutions. We make sure you have all the information you need to get the best experience and value from our partnership. To give you the best experience with products, services, or the Abel Womack team, we will inform you of our unique approaches, client support systems, feedback channels, and other important avenues for maximizing your experience with us.
We treat all information received from you as proprietary and for the purpose of benefiting our partnership.
CONSULTATION, FEEDBACK and COMPLAINTS
Our primary goal is to surpass your expectations in every interaction. Comments and feedback from you regarding how well your expectations are being met are welcomed and appreciated.
While we take utmost care to ensure that we provide our services efficiently, courteously and to a high standard, we understand that complaints may occur. A complaint, however it is made, will be investigated, resolved, and used as a means to improve our standards of service. If at any time during your interaction with Abel Womack you are not happy with the level of service you experience, please submit a detailed summary of your concern(s) by phone at 978.989.9400 or in writing to thedifference@abelwomack.com. All concerns will be appropriated to the person or department best suited to respond. We will acknowledge all written concerns within 1 business day of receipt, followed by a thorough investigation into the issue involved. Resolutions will be discussed with you, and then implemented to ensure your complete satisfaction.
If you are not satisfied with the way in which your concerns have been resolved, you may request an escalated review of the situation from the Chief Operating Officer. Such a request may be made by calling Anthony Fedele at 978.398.0644 or by e-mailing appeals@abelwomack.com. Your request will be given the utmost attention and courtesy, with open two-way communication until the issue is resolved.
COMPLIANCE AND RELEVANT INDUSTRY REQUIREMENTS
Abel Womack fully complies with applicable laws and regulations everywhere we do business. Particular care to ensure compliance is and must always be taken by employees or sub-contractors acting on Abel Womack's behalf when working outside our core territory.