Automating Solutions for Today's Labor Shortage
Automation is here to stay, and that includes lift trucks. These automated guided vehicles (AGVs) provide a cost-effective, efficient, and reliable solution to ease the labor shortages many warehousing, manufacturing, and distribution operations face. Much like a mobile robot, AGVs follow markers or wires on the floor or use vision or lasers to navigate a facility.
Raymond Couriers
The Raymond Couriers are ideal for automating repetitive, low-value tasks. Implementation is easy. Using vision-guided technology, operators can easily program and reprogram routes quickly and as needed. The Raymond Courier Automated Stacker, Tow Truck, or Pallet Truck offers the perfect entry point into automation. We'd like to help you find the right automated lift truck for your application.
SmartCarts
SmartCarts® by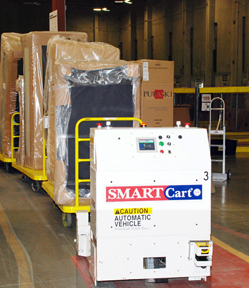 Daifuku Webb provides a reliable and cost-effective automated guided cart. It's ideal for moving products on an assembly line or transporting goods through a warehouse or manufacturing plant. It's guided by magnetic tape, allowing the user to install or modify the guide path in a few hours quickly.
Transponder tags can be placed on the floor to indicate locations where SmartCarts® are to perform assigned tasks. Various tasks such as stopping, increasing/decreasing speed, lifting, and lowering can be performed at different locations. Modify the guide path by pulling the magnetic tape and reapplying it in another location along with any transponder tags. A bar magnet strip can be embedded into the floor in high-traffic areas where magnetic tape could be damaged.
Benefits of Automated Guided Vehicles:
Flexible load-handling options
Easy installation
Cleaner and quieter than conventional conveyors
Easy modification
Fewer barriers
Easily scalable
You can learn more about our automated guided vehicles below.