February 8, 2016 –
Have you ever wondered why it took us so long to come up with the concept of goods-to-person technology? After all, it makes perfect sense in that it utilizes machines to do the manual labor that we, as humans, don't do well over the long run. We are better suited to perform tasks that require more intelligence and less muscle.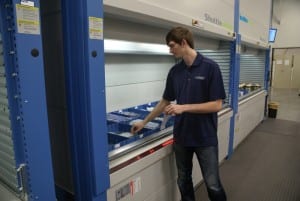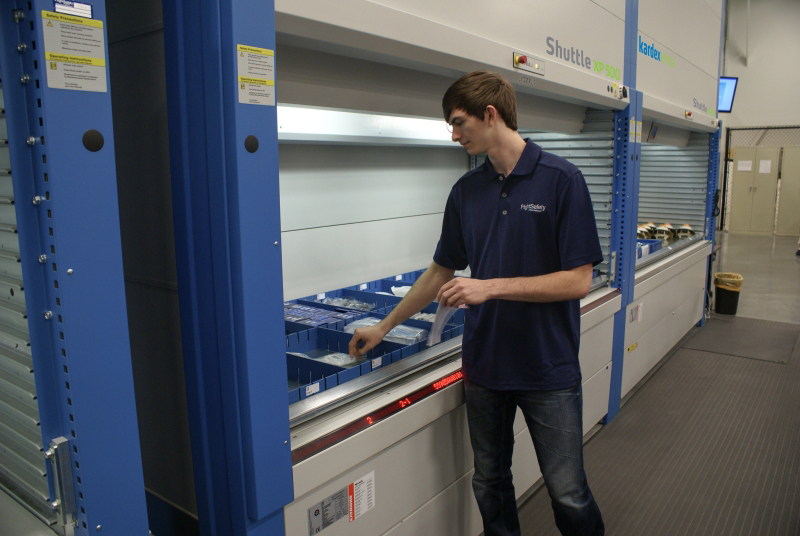 The intelligence we bring to the table is focused on accuracy and productivity when fulfilling an order. Goods-to-person automation strives to leverage our efforts for the benefit of the warehouse fulfillment operation. Not only does it give our bodies a break by getting machines to do the heavy lifting but it presents the product to us at an ergonomically-beneficial position; minimizing bending and reaching. That's something EH&S professionals are all interested in.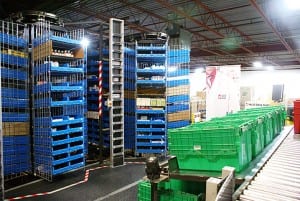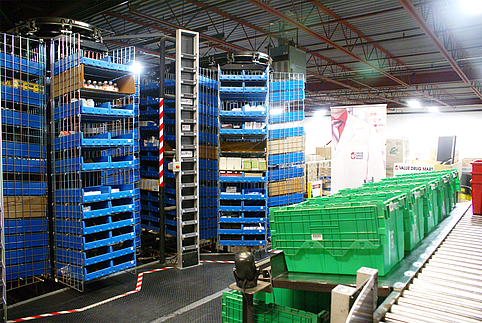 Goods-to-person technology is often paired with software that multiplies productivity by batching orders, directing pick/put to light displays, integrating zone routing conveyors or directing replenishment activities in such a way as to keep the most commonly picked items in the most time-efficient locations. All the time saved from walking, climbing, lifting and reaching can now be focused on other, more important value-added activities. In addition, it stands to reason that the reduced physical effort should keep us more available and alert for the important parts of the order fulfillment process. Some of these activities might be labeling, packing for reduced product damage or customer presentation, process improvement, marketing activities, or accuracy audits. As the associate is performing these tasks, the machines are doing the manual labor of retrieving the next tray, tote or bin for the order picker to reach for. It seems like an obvious concept but one that continues to gain traction in manufacturing kitting and order fulfillment applications. With increasing regularity, this technology is being integrated with robotics with pick and place vision technology, further redirecting labor to higher-value tasks.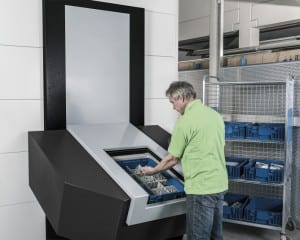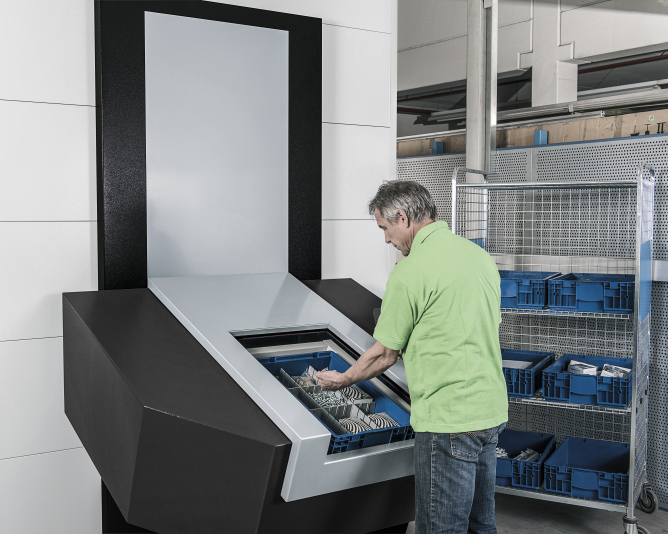 Some common examples of goods-to-person technology are: ASRS, mini loads, vertical lift modules (VLMs), horizontal carousels, vertical carousels, and on the low tech side, pallet and carton flow racks. These low tech solutions are often paired with automation to round out the overall solution to maximize space and productivity without costing all that much.
Recently, we installed 13 VLMs employing goods-to-person technology for a global manufacturer in New Hampshire. Before the new system, our customer had an average of eight employees picking 150 line items each for a total of 1200 line items daily. Since the implementation of the new system, they've downsized their picking staff to an average of four employees picking 1500 line items daily.  Just think of that ROI!
It takes significant expertise to analyze customer data and correctly apply these technologies; it takes a solid understanding of your internal process. It's not right for every application and is most commonly used on medium-to-slow moving SKU's in the warehouse. As everyone in our line of work knows, automation is a hot topic these days. Be sure to think it through before you invest in an automated goods-to-person technology. A robust plan will make you, and your boss, much happier after the implementation is complete and payments have been made.