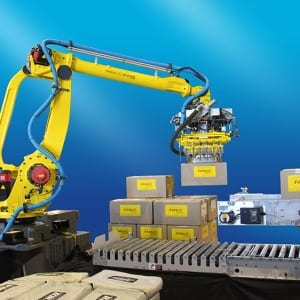 The M-410iB series is FANUC Robotics' latest-generation palletizing industrial robot. The unit is engineered for precision high-speed/high-payload operation, user-friendly setup, and maximum reliability supported by our extensive service and parts network. The Fanuc Robot M-410iB is a four-axis, electric servo-driven robot with an integrated mechanical and control unit designed for a wide variety of manufacturing and palletizing system processes.
M-410iB, the solution for:
Case palletizing
Bag palletizing
Depalletizing
Layer handling
Press tending
Machine load/unload
Part transfer
Benefits
Fastest cycle times and highest payload in robot class.
20 cycles/min. case palletizing at 100 kg.
27 cycles/min. bag palletizing at 100 kg.
Large allowable wrist inertias meet a variety of heavy handling challenges.
High performance motion yields fast cycle times and high throughput.
Small footprint and integrated controller reduces required floor space.
Ability to service multiple production lines with large working envelope.
Unique hollow RV speed reducers simplify cable routing.
Proven, reliable FANUC servo drives provide highest uptime and productivity.
Able to operate in environments ranging from harsh to traditional factory floor.
You may be interested in ROBOXX, an all-in-one, modular, turnkey automation solution utilizing FANUC robots.