Universal Robot Cobots rise in demand in the industry
According to a recent report by MarketsandMarketsTM, cobots are a fast-expanding segment of industrial automation. The industry is projected to grow from $1.1 billion in 2022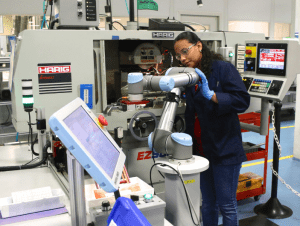 to $9.2 billion by 2028.
As businesses around the globe continue to face growing labor shortages and economic uncertainty, they must innovate to survive. Designing new automation solutions using robot collaboration will be at the center of this transformation and, in many cases, provide immediate and long-term relief.
Cobots are ideal for most labor-intensive tasks, such as manual palletizing/depalletizing, packing, and assembly. Cobots don't get tired or take breaks, so you remove bottlenecks and boost productivity. The added benefits are a reduction in labor costs, potential worker injuries, and reduced fatigue. When demand increases, and you need to deliver, a cobot can be deployed or an existing work cell reconfigured in hours at a surprisingly low cost. The ROI is often less than a year!
What are Cobots?
A cobot is a collaborative robot that works side by side with your workers, sharing the same workspace. Cobots require a very small footprint and do not usually require security cages, guarding, or gates. Cobots have sensors to avoid collisions and keep the workspace secure. Reducing repetitive tasks helps alleviate the risk of accidents while increasing product quality and consistency. Automating tasks also can help maintain production levels when dealing with labor shortages and covering for staff vacations and illness.
Streamline operations quickly
Turnkey systems are built for your specific application, thereby reducing the time it takes to install, program, and train employees to run it. The sophisticated yet simple interfaces make it easier to program and operate than traditional industrial robots; it is a task non-programmers can learn in minutes. Grippers and end-effectors come in many standard configurations or can be customized specifically for your application. Easily reconfigure and reprogram these cost-effective cobots as your organization's needs change. They maintain uptime, increase operational efficiencies, and provide a very compelling ROI- all within a small footprint.
---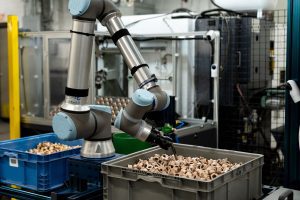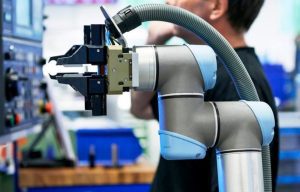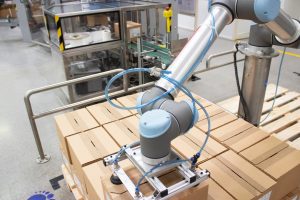 ---
Meet Universal Robots

Abel Womack is a certified system integrator of Universal Robots (UR), one of the earliest and largest producers of cobots in the industry. Since 2008, UR has been helping businesses address labor shortages with their leading-edge robotics platform and changing the way people work ever since. Compared to traditional robotic automation, cobots provide all the benefits but with a shorter set-up time and easier programming at a very affordable rate.
Cobot applications
By leveraging this flexible automation, Abel Womack is helping manufacturers and distributors of all shapes and sizes in various industries and applications automate processes. Applications include:
palletizing and depalletizing
packing and kitting
goods to robot picking
material handling assembly
machine tending
UR models
Whether you're in need of high payload, long reach or precision tasks, UR has a model to meet your needs. These cobots are built for higher payloads, longer reach and faster speeds. Manufacturers can easily relocate the UR20, providing greater flexibility and new possibilities.
End-effectors, software and accessories combine with a UR robot for a complete solution.

Robotiq plug-and-play components
Using their plug-and-play design, Robotiq helps deploy robot cells faster and more efficiently than ever. With fast installation and easy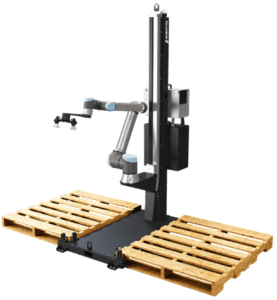 programming, their products are built to work with collaborative robots like Universal Robots. Robotiq's solution allows you to use a more compact robot as the robot base moves up/down, allowing for better reach capabilities in a small footprint. Robotiq offers easy-to-use solutions for a wide range of applications, from vacuum grippers to vision to application kits. Best of all, no programming skills are required.
Secure a competitive edge
In today's fast-paced environment, adopting automation is critical to the success of your business. Luckily, it's easier and more cost-effective to implement automation than ever before. Our experts consult with you on your unique needs and evaluate options to optimize and then automate a solution for your specific application. Due to our size and experience, we have the technical knowledge and extensive support to provide superior service and value to grow your business.
Get a competitive advantage today. Contact one of our automation specialists to learn how your operation can benefit from scalable, automation and robotic solutions with available financing options.