Abel Womack's all-in-one, modular, turnkey automation solution utilizing FANUC robots
The demand for robots and automation is rapidly increasing, with many new packaging and palletizing applications. According to the Association for Advancing Automation, robot orders in North America were the second-highest on record in Q1 2021, and there are several reasons why this is the case.
Labor shortages and higher costs are significantly impacting productivity across processing lines, manufacturing sites, and distribution centers. Couple those factors with a massive shift to online shopping and the associated demand for faster delivery, and companies realize that they must automate in order to stay competitive.
Robots – more affordable than you may think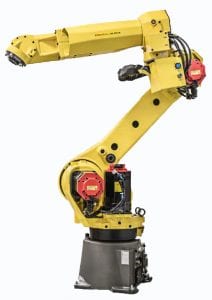 Robots work non-stop to accommodate these rising demands, including times when the regular labor force isn't available or where social distancing requirements make it difficult. And this shift towards automation will only continue as organizations compare the challenges and costs of manual labor to that of automation- with its advancements in functionality, lower costs, ease of implementation, and the ability for robots to collaborate with workers.
To help companies navigate their way in today's competitive landscape, Abel Womack specializes in complete intralogistics solutions like the ROBOXX.
What's ROBOXX?
It's an all-in-one, modular, turnkey automation solution that utilizes FANUC robots to palletize and, if needed, to pick, pass and pack any product quickly, safely, efficiently, and more cost-effectively than traditional methods. It's like a robot in a box.
Benefits of ROBOXX
Capability
Expandability
Modularity
Mobility
Swiftness
Power and Versatility
Value
Rapid ROI
Here's how it works. Let's say you need to palletize products with several shapes and sizes – at high speed. The ROBOXX stacker is designed to use your variants to calculate the optimal solution, including:
Number of infeeds/outfeeds
Stack locations and patterns (floor/conveyor)
Carrier options, including slip sheets
Payload
Gripper type (mechanical/vacuum/combo)
Based on your individual needs, we program and thoroughly test your products and patterns. With pricing as low as $100,000 for a simple palletizing system, the ROBOXX is quick and easy to install, has lead times as short as 10 weeks, and usually has an outstanding ROI.
Let Abel Womack's knowledgeable and experienced team help your operation increase productivity, guarantee uptime, and save time and money. Contact Abel Womack today to learn more about the ROBOXX, leasing options, and our comprehensive service support.

< 1 Year: You're paying too much for labor. Let's talk specifics and give you a competitive advantage. Contact us today.
1-2 Years: This is the best possible way to reduce costs and provide long-term savings. Contact us today to get started.
2-3 Years: This is a great way to reduce overhead, assuming that the product this line handles maintains current volume or increases over time. Ready to learn more?
3-5 Years: For most automation customers, this timeframe is the "sweet spot". Seriously consider where your dollars are going today and where you'd like them to go three years from now. We're here to help, give us a call today.
5-8 Years: Although doable, this is the point where the proposed system is likely too costly to be considered solely against labor. However, if safety, running in lights-out or hazardous environments need to be considered among other factors, this may still be a viable option. Contact us to see what alternatives there are and how you can still benefit.
8-10 Years: It's likely this system isn't meant to replace manual labor, but other considerations are needed to justify an ROI in this timeframe. Contact us for a consult. We'll run some numbers and see what improvements can be made.
10 years+: You're a bit ahead of your time. Call us for a consult. We'll run some numbers and point you in the right direction.