April 13, 2020 –
Order picking is one of the more vital and labor-intensive activities within the warehouse or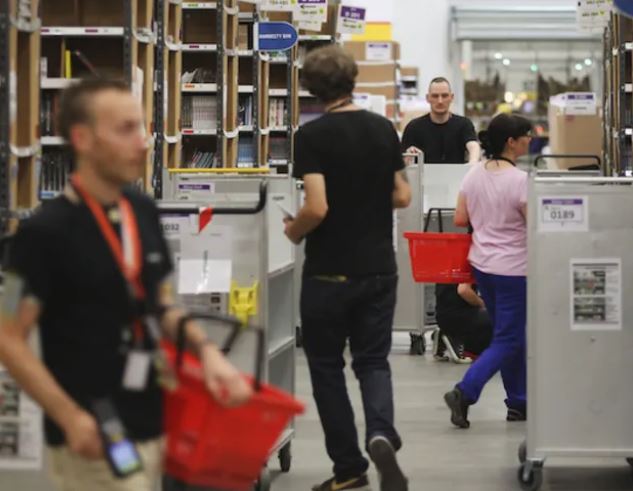 distribution center (DC). It's the process of retrieving items from your warehouse inventory to satisfy customer orders. Fast and accurate order picking helps keep costs down and is closely tied to customer satisfaction, which is just as important.
Most facilities have a primary pick location where the majority of picks are completed, as well as an overstock inventory to replenish those primary pick locations. But how do you know which order picking method is the right one? Let's take a closer look.
Order Picking Methods
Single Order Picking: With single order picking, one picker works on one order, one line at a time, providing a high level of accuracy. This method can be inefficient, as the picker may need to walk the entire pick area to fulfill each order. Single order picking is often ideal for smaller warehouses, smaller order volumes, and paper-based picking.
Batch Order Picking: One picker picks multiple orders — or a batch — at the same time, one SKU at a time. The main advantage of batch picking is that the picker only needs to travel to the pick slot once to fulfill multiple orders. This method is ideal for companies that have multiple orders with the same SKU, or orders with only a few lines items in each order. Batch picking may require that the batch be broken out into discreet orders after the batch is picked.
Zone Picking: The warehouse is divided up into different pick zones. The picker assigned to each zone is responsible for completing the picks in their zone. Zone picking is great for high volume operations that suffer from picker congestion. Each zone utilizes its own type of storage method or technology, depending on what works best for the SKU stored in that zone. Pallet racking, bays of shelving, vertical lift modules (VLMs), or vertical carousels (VCs) are often utilized to define the zone. If the order is not complete in their "zone" then the order needs to be passed to other zones to complete the picking process.
Pick and Pass: This is a continuation of the zone picking process. Orders are passed from zone to zone until the order is complete. The method of "passing" the orders between the zones can range from a manual pass process (arranging orders on a mobile cart and pushing the cart to the next zone) to zone-routed conveyor systems (automatically scan and transport the order to the next pick zone) to full automation (collaborative mobile robots would deliver the order to the next pick zone needed).
Pick and Consolidate: Each zone picks the SKUs needed to complete the order from their zone. Each zone then sends the items picked to a consolidation area where the SKUs are combined into one comprehensive order for the customer. This process works well for orders that contain small items as well as large, bulky, or heavy items that cannot be picked and passed. A strong WMS or a very structured process is needed in or to execute this strategy.
Cluster Picking: This involves picking multiple orders into individual order totes or the actual shipper at the same time. The most common way to set up a cluster pick is to load a cart with the multiple containers or cartons (each container or carton represents one order) and begin the picking process. The main advantage of cluster picking is travel — the picker only cycles through the area once to pick multiple orders. VLMs or VCs are often utilized as well to pick multiple orders at one time using pick-to-light technology.
Sorting out Solutions for your Application
As operation managers strive to increase productivity, throughput, accuracy plus driving down costs, they may ask, "Which order picking method is best?" Unfortunately, there isn't a single best order picking method, as it all depends on what your operation needs. A good place to start is by asking a few simple questions.
What is the size of your warehouse?
How many SKUs do you carry?
How many orders do you process daily?
What is the average number of lines per order?
How many order picker hours does it take to process your daily orders?
All these factors must be weighed and considered to determine which order picking method is best for your operation. An experienced material handling integrator can help you analyze your data and navigate the different technologies to take your picking process to the next level. That's where Abel Womack comes in. We have the experience and the expertise needed to understand your needs and to provide the accurate solution. Contact Abel Womack today to speak with our team of experts.