Save Space While Increasing Productivity
Vertical carousels offer proven, high-productivity solutions designed to reduce costs, labor, space and time in a wide range of industries. Compared to shelves, drawers and other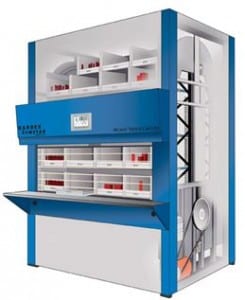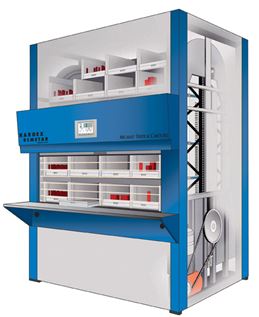 traditional storage methods, Kardex Remstar vertical carousels provide significant gains in efficiency, control of inventory management and warehouse floor space recovery.
They are an ideal choice to store smaller products that are similar in height (typically under 8 inches) and work best where ceiling heights are under 25 feet.
Applications:
Manufacturing
Automotive
Tooling
eCommerce order fulfillment
Distribution
Kitting
Cleanrooms
Pharmaceutical
Refrigeration
Hospital/Medical
Benefits of vertical carousels:
High-density storage of slow to medium goods.
Automatic delivery of items to an ergonomic height for high-throughput picking in just a few steps.
Secure access.
Maximized storage in a compact footprint by leveraging vertical space.
When coupled with software, vertical carousels can run order picking technologies to ensure 99.9% accuracy, such as light-directed picking and bar code confirmation.
Read this Medical Testing Lab Case Study on how one medical testing laboratory gained 77% of floor space and increased productivity by 56% using vertical carousels and shuttle VLMs.
Download this Vertical Carousel Brochure for more information or ask us about other Kardex Remstar automated storage and retrieval systems. We work throughout the New England area (MA, CT, NH, VT, ME, RI and NY) and we'll help determine what would work best for your unique operation.