February 28, 2022 –
Over the past few years, we've been hearing about the important reasons to install the newest automation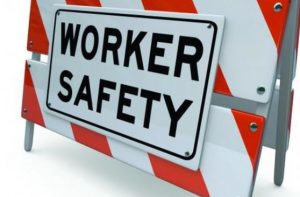 technologies for warehouse and production centers: increased productivity, improved accuracy, tight labor market – all critical factors and a must when looking to create the most efficient distribution center.
But the big buzz in the industry these days revolves around safety – and the best ways to reduce or eliminate injuries. Some of the recent issues that come to mind:
Covid-19 and keeping workers distanced to prevent the spread of the disease
Operating forklifts and other equipment – proper training and practices to reduce injuries
Warehouse hazards: equipment collisions, pedestrian safe-zones, rack collapses, falling debris
Injuries while picking orders (at elevation)
Straining or overexertion and repetitive task injuries
According to OSHA and US Bureau of Labor Statistics there were 24,380 injuries involving time away from work in warehouses during 2019. Additionally, there were 21,680 falls while picking or moving material during the same year. Not only does this cause human suffering but severe issues with productivity loss and higher medical and legal costs.
Priority #1: The Basics of Worker Safety
Safety is certainly not a new concept in warehouse environments. Most have been using some form of safety measures already, such as
rail and wire guidance systems for very narrow aisle (VNA) applications
improved lighting (LED vs fluorescent)
operator training – OSHA, vehicle manual
These have been effective products and methods to protect both infrastructure and personnel. Besides the products and training mentioned above, there are a few things every warehouse should have:
Labels and signage: all products should be clearly identified as in contents, destination, and useful warnings; also, signs showing allowable access and designation of vehicle traffic is important.
Guard rails and anti-slip tape: Falls are the most common accidents in warehouses – stairs, ledges, ramps, and inclines should be lined with anti-slip tape. Likewise, guardrails are vital and should be placed in any area where falling is a risk.
Personal safety gear: warehouse workers should be protected head to toe – with equipment that includes helmets, safety glasses, ear protection, masks, vests, gloves, and steel toe shoes.
But even with all that, we've become familiar with a more technical set of safety items that also improve productivity.
Priority #2: Ensuring Worker Safety with Existing Technologies
With the increase in e-commerce and shipping production it's starting to get crowded in the back of the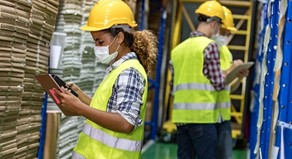 house. Hiring is up for more production, fulfillment, and shipping personnel which has become a major concern as companies struggle with social and work-place distancing protocols.
Healthy workers work more efficiently, and although organizations face challenges keeping staff separated, keeping the warehouse as virus-free as possible is worth the effort.
Other types of safety issues, like overexertion and repetitive tasks injuries have also led to unplanned time off, worker's compensation claims and lost productivity. Conditions such as Repetitive Strain Injury (RSI)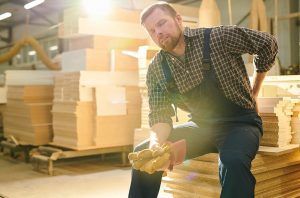 and carpal tunnel are two well know examples of repetitive motion injuries that have a negative impact on production and worker safety and quality of life.
Instead of workers pushing, pulling, or carrying product through a production facility, organizations have been using automated technologies like conveyor systems, palletizers, and automated guided vehicles (AGVs) to remove workers from dangerous tasks. Not only do these methods increase production but also reduce the chance for incidents of injury, or worse.
Priority #3: Ensuring Worker Safety with Emerging Technologies – Software
Over the past number of years newer emerging technologies, including high-end automation, is not only essential for upgrading production levels but also to provide safer work environments. Companies have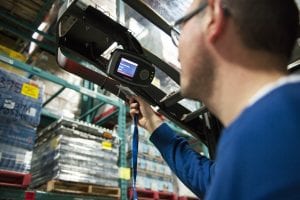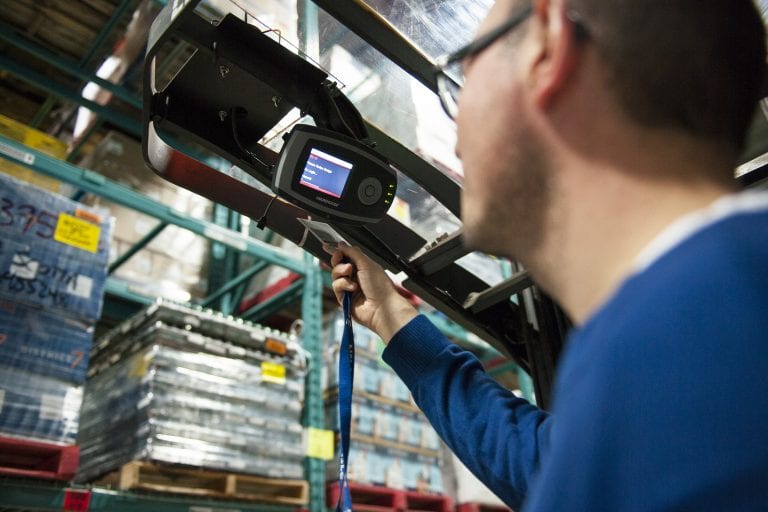 become so aware of health and safety issues that whole departments have sprung up or increased in size and importance. Visibility and the ability to produce reports of warehouse activity through computerized technology has become an enormous growth area.
Getting more out of lift truck telematics involves looking beyond basics and starting to incorporate analytics fed by integration with other systems. By marrying up telematics data from the trucks with operations data, or with real-time location feeds, users not only benefit with higher productivity and tighter efficiencies, but also create a safer work environment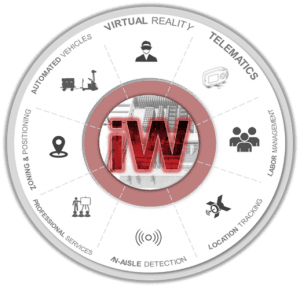 since safety codes can be monitored continuously.
Products such as Raymond's iWarehouse is a prime example of this successful technology – and its integrated products such as Real-Time Location Services (RTLS), In-Aisle Detection System (IADS) and Zoning and Positioning (ZaP). These three critical emerging technologies provide data and work directly with iWarehouse to provide a safer work environment.
Priority #4: Ensuring Worker Safety with Future Technologies – Robotics
And, what about the future? Well, it's closer than you might think – in fact, the future is here today. The newest automation involves cutting-edge technologies that takes warehouse productivity and worker safety to new levels.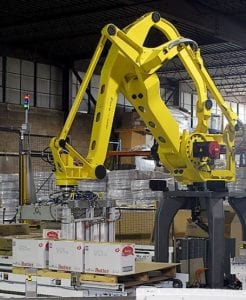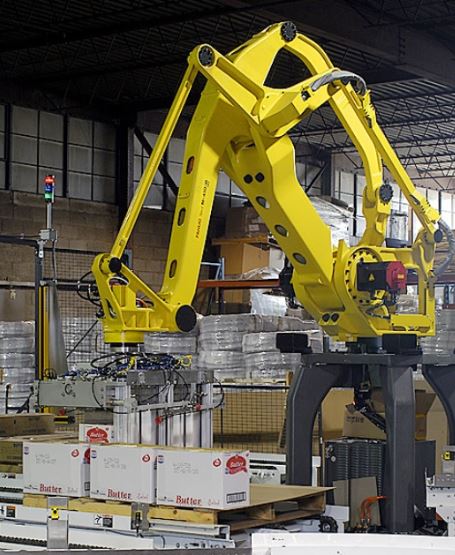 Robots have been around for a while, but the advancements have grown exponentially over the past few years. Some Robots are "in-motion," and are used to transport goods: moving totes, carts, and packages through warehouses. Other robots are stationary and are used to place product onto or off pallets or conveyor systems.
Robots are now being used for picking, packing, sorting, and storing, including automated storage and retrieval systems (ASRS). They take on the tedious and repetitive jobs like unloading heavy boxes off trucks or loading product on pallets. Often you need two workers to unload one truck, but when you use the right robot configuration, you only need one worker to cover as many as four or five trucks. This frees up workers to perform different, safer tasks and reduces the chance for injury events, while improving productivity and reducing inaccuracies. And, of course, it reduces labor costs significantly.
Robots can function in ways humans have always done but without the chance for injury or work-time loss that comes with assigning those tasks to humans. AGVs, or unmanned guided vehicles move throughout a facility by following a set of predetermined paths that are created with built-in facility infrastructure, including physical landmarks. The benefit is that there is little to no interaction with humans (other than to supervise). These AGVs enhance warehouse safety by allowing vehicles to move through a warehouse without a driver, keeping workers out of harm's way.
Even more exciting is the artificial intelligence (AI) technology that comes with autonomous mobile robots (AMRs). AMRs are capable of free-movement and real-time path planning. They navigate through onboard sensors, meaning they do not need external landmarks to move and operate within a facility. So not only do they transport material effectively, but they also adjust and readjust their path as new obstacles appear or the landscape changes. Whereas other manned vehicles and pedestrians move through the warehouse, AMRs will detect and adjust their path, reducing the chance of contact and injury.
AGVs and AMRs reduce or even eliminate manual tasks like walking times and transporting items. Additionally, they can grow with you or scale up or down as needed – often with very small ramp-up time.
CONCLUSION
Safety in warehouse and fulfillment environments have been a high priority item for decades. And now, with the newest technologies, not only have we improved accuracy, increased speed of production and reduced labor costs, but it's being done with the highest levels of safety as a key element.
Contributing articles and references:
How Technology is Improving Warehouse Safety by James Beale, Invicta Pallet Racking, July 2021
How Automation Increases Warehouse Safety and Productivity by Dr. Kerstin Hofle, November 2021
3 Ways in Which Automation Improves Warehouse Safety by Anuj Srivastava, NY-Engineers, June 2021
Technology Keeps Warehouse Workers Safe in the Busy Holiday Season, by Chris Sullivan, NYMI, November 2020
Creating a Dynamic Warehouse with LiDAR and Computer Vision Technology by Jeff Christiansen, December 2021
What's the Difference between an AMR and an AGV? by Mike Oitzman, Mobile Robot Guide, August 2021