February 6, 2017 –
Recently, we completed a project for one of our customers, a US multinational, biotechnology product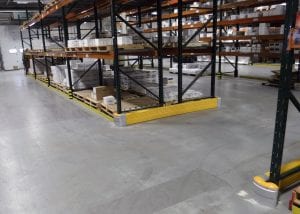 development company. Not only did the job entail replacing 160 damaged pallet rack frames that had been frequently hit by forklifts, it also included protecting the new and existing frames against future damage.
A combination of McCue pallet rack end protectors and Ridg-U-Rak RAM Guards were used in the warehouse to protect the ends of the rows and the pallet rack columns. These durable, longer lasting rack protection products are designed and engineered to absorb the maximum impact of equipment that occur in warehouses, distribution centers, and stores.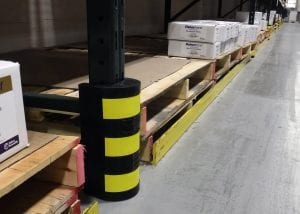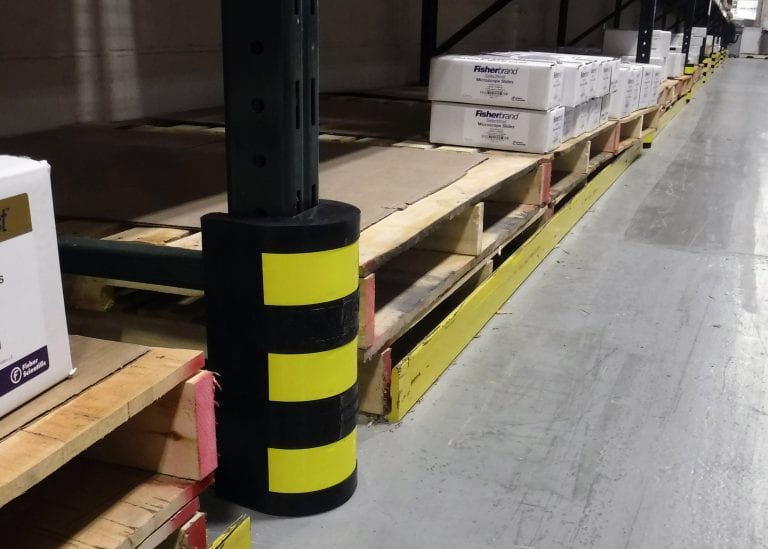 Pallet rack is the most common storage product in the industry, coming in various sizes and load capacities. But even with improvements in technology, such as energy-absorbing material and racks designed to withstand certain seismic events, accidental impacts from lift trucks are inevitable. Repairing and replacing damaged racks hinders productivity and can be costly. Pallet rack end protectors and guards are just some of the alternatives you can use to safeguard your investment.
When heavy material handling equipment is involved in your operation, you must consider all the available solutions. By investing in new technologies and materials, not only will it save time and be cost effective, but more importantly, you'll also protect your people, your property, and your equipment.
If you are looking to reduce your risk of costly damage or injury, and maximize productivity, contact a material handling expert for a free rack safety inspection. In addition to providing solutions to protect your assets, they can assist you with an assessment of your current and/or future rack system design and layout, ensuring the best space efficiency and material flow for your operation.