High velocity items often require multiple cartons of storage in order to insure constant availability. One popular method that provides excellent storage density combined with picking efficiency is a carton flow rack pick system. This pick system utilizes a track of wheels or rollers installed at an angle of approximately 3/8″ per foot. The product is loaded in the back and flows via gravity to the front, where it is picked.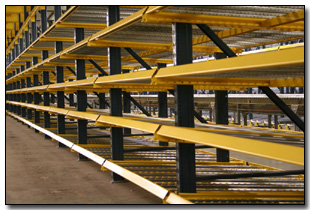 Most gravity flow racks are 7′-10′ deep, permitting multiple cartons or totes of the same product to be stored in each lane on a first in, first out (FIFO) basis.

To further enhance picking system efficiency, pick-to-light systems additionally automate carton flow rack. These carton flow rack pick systems utilize a series of lights and displays to prompt the operator to pick the correct product in the correct quantity. Pick-to-light systems are normally complimented with barcode technology. A barcode carrying the order processing information is read, and that activity will energize the lights and displays in that zone of picking.