Wooden pallets are still the most common way to store multiple cartons of product in a unit load. Storage rack is an enormously popular method for the storage of pallets. The vertical members of pallet storage racks consist of two vertical posts tied together with bracing. The shelf is comprised of two horizontal steel beams that connect to the upright.
Practically speaking, pallet racks can be designed to accommodate any load to any height. The limitation in the height of a pallet rack is normally dictated by the equipment servicing it.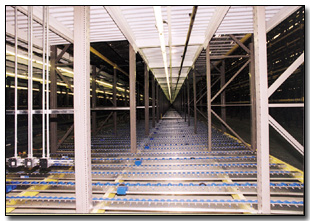 Pallet flow racks are like carton flow racks in that loads are fed from the back and gravitate to the front, where they can be unloaded via forklift or case picked. Pallet flow is best applied to storing multiple pallets of the same SKU in a high-velocity operation.
Most pallet flow systems store pallets from two deep to ten deep. In longer pallet flow lanes, braking mechanisms must be added to retard the speed of pallets gravitating down the lane. This can sometimes be problematic if loads are highly variable in weight since the braking mechanisms use friction to retard speed, and variable-weight pallets will respond differently to the same amount of friction.
There are two basic types of pallet racks
Structural rack consists of hot rolled steel formed in the shape of channels. Although normally more expensive, it is highly abuse resistant and can represent an excellent investment if the storage rack is prone to be damaged by the lift trucks servicing it. The propensity for damaging the rack is a function of the aisle clearances, speed of the operation, and type of equipment used.
Roll formed rack is cold rolled sheets of steel that are bent into a specific shape. They are highly efficient in their weight-strength ratio and can therefore be highly cost competitive. Since rolled form rack is less abuse-resistant than the structural rack, provisions must be made to protect the uprights in applications in which forklift contact with the racks is likely.

Contact us for more information on how Abel Womack can help you with your pallet storage equipment and material handling systems.