September 26, 2022 –
As a service technician I drove forklifts quite a bit. They were not as sophisticated then and thus had some special challenges we don't see today. Even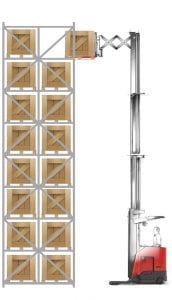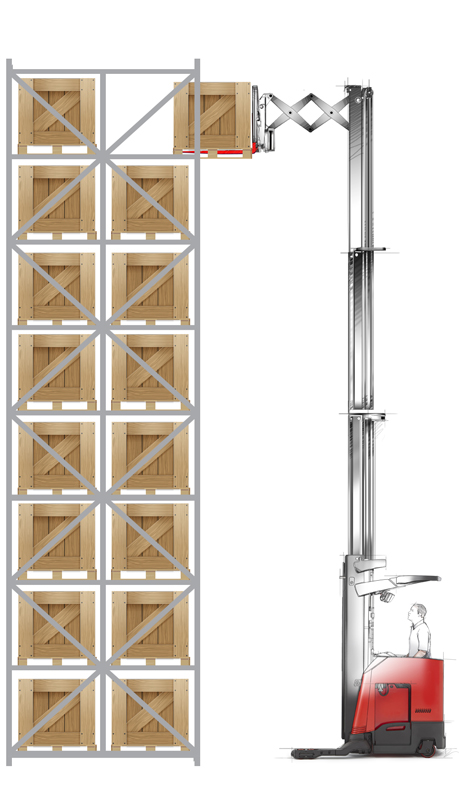 today with better structural designs, innovative technology, and high quality, driving a tall reach truck is not for the faint of heart.
I can tell you from experience, a tall reach truck is an example of physics in motion. Was it Newton who said, "An object in motion tends to stay in motion"?
Efficient design, a smoother operation
When you put a 3,000 lb. load up in the air and get that tractor moving, even the tightest mast is going to sway. The centrifugal force of the load at height when you go into your turn can give you pause. The inexperienced operator may slow, or brake; hopefully not going too fast in the first place. The veteran rolls around that curve with confidence at the right speed, and everything is smooth and clean. Not hot dogging it, just smoothly doing the same turn every time. It takes experience and a forklift that responds to the controls the way you want it to. A forklift with a suspension designed for the task. A forklift in good repair.
The most eye-opening call for me was a brake test on a tall reach during scheduled maintenance way back in 1988. While driving the truck tractor first, full speed, empty carriage, testing the brakes, the brakes were overtight, as the caster spring had failed. I should note that back then the reach trucks used a drum style mechanical brake that was, well, a drum style mechanical brake. This one had some brake fluid weeping on the pads that made the brakes over-tight. Step off the pedal and the drive tire stopped turning. The load wheels came off the ground, the caster buckled, and the truck spun about 30 degrees before it came to a complete stop. Certainly not what I was expecting to happen. Luckily, no damage, no injury. I let the client know, and the operator agreed, he thought something was off regarding the caster and the brake. I fixed it.
The good news is all of today's tallest reach trucks use an electric disc brake that is controlled by the vehicle manager to only snap on after the speed has come down to 1mph. The electronics reverse plug the motor in a controlled, slowing fashion above 1mph. I wish they had that back in 1988.
Avoid tip overs
Over the years I've heard and seen the results of tall truck tip overs. Thankfully, my clients have not had any serious injuries, but in each case the reach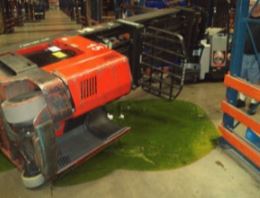 truck is junked. The causes I've heard have included: two trucks collide while travelling high speed, running into a short doorway or a bridge rack tunnel when the mast was elevated, the load hanging up on an upright when elevated, and an inexperienced operator driving the tractor sideways when he should have been retracting the reach before turning.
I'm a little out of practice, having moved into a sales role, but do routinely go over the controls with new clients, and take a little spin around, remembering the old days. It's a job that requires skill and, well, not everyone can do it- especially day after day all day long. I have a lot of respect for the men and women that drive tall reaches.
Key features to consider for your tallest reach trucks
Caster wheels that turn with the drive wheel. Eliminates caster snap.
Articulating suspension. Keeping both wheels on the ground is key.
Vantage Point Cameras gives a clear view of those fork tips and gives your neck a break.
The tallest reach comes standard with an inertial dampener on the caster side. Consider it as an option for the shorter ones too.
Wide stable mast that won't bind or slop or get sloppy a year after it's put into service.
Torsion tube reach carriage prevents cracks in the scissors that would cost a lot to fix.
Reach / retract speed limit. This option will make sure your operators pull the load all the way in before travelling and are not travelling at high speeds with the load extended.
Telematics. Know who is on the truck when an "event" happens.
Location tracking. It's like indoor GPS: map, track, review truck travel. It also can tell you if there are traffic jams slowing everyone down. It can keep trucks out of areas they shouldn't be in. It's not cheap, but neither is rack and product damage, or poor productivity.
Get a maintenance staff or service provider that is top notch. This is not a truck to cut corners on when it comes to maintenance.
Rising to the occasion
In short, if you are buying tall reach trucks talk to someone who knows the ins and outs of tall reaches like Abel Womack and Raymond. We've talked to operators over many years and designed the must haves for a safe and productive truck. Plus, we have the service capability to keep your tallest reach trucks running in tip top shape.
Oh, and don't forget training. The OSHA class talks about the stability triangle and tip overs and how to avoid them and the hands on with an experienced trainer can really make a difference. When you get on the truck, lift a load to max height and put that pallet into the rack for the first time, then you will know exactly what Newton's first law of motion means and why understanding it is so important.