September 28, 2020 –
It is 6am and you just arrived for your 8-hour shift at the warehouse. You walk towards the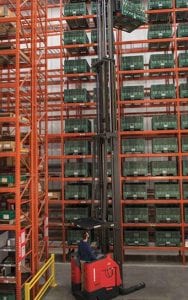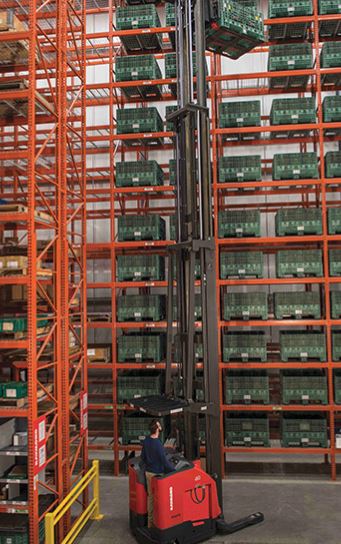 employee entrance with a hot cup of coffee in one hand, as you wipe the night's sleep from your eyes with the other. You punch into the time clock from circa 1935 and make your way down the dimly lit aisle to your deep reach lift truck, ready to start the day of let downs and put aways.
Once you climb aboard you make your way to the first SKU located 25 feet up. You pull out the first pallet with ease but when you attempt to pull out the second pallet directly behind it, you feel some resistance. You ask yourself, "Are my forks engaged in the pallet? What am I hitting?" You exclaim to the fork gods above, "If only I had a deep reach truck that helps me see what's going on."
Well look no further my friend, Raymond has got you covered.
Lights…Camera….Action!
Raymond has a product offering of high capacity reach trucks and deep reach lift trucks that are capable of lifting loads up to 45 feet. This allows for full utilization of the entire warehouse "cube". Raymond also offers the Vantage Point Camera system that includes a waterproof camera mounted below the fork carriage and an integrated camera display that will turn on when the lift is traveling at less than 2.5 MPH, at any fork height. This system allows the operator to easily identify pallets and assist in their retrieval and storage at high and deep heights.
In addition to the Vantage Point Camera, Raymond offers optional LED work lights that are mounted on each side of the lift and assist the operator by providing light to storage areas that are dimly lit. Also, as an option are blue halo lights that emit a blue halo light on the ground ahead of the lift that help identify to warehouse workers that there is a lift operating in the area.
Picture this
Flash forward six months and your dream lift truck has finally arrived. Management has listened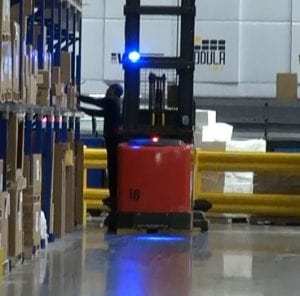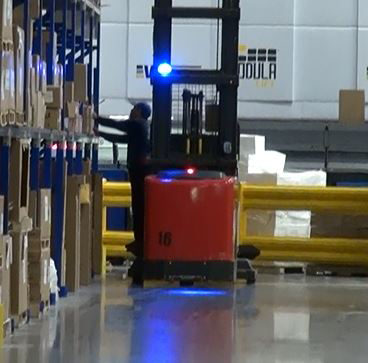 to your concerns and purchased a state-of-the-art Raymond deep reach lift truck with work lights, vantage point camera, and a blue halo light. Life is good and now with lights and camera, you are ready for action!
Spoiler alert
Want to take advantage of these great options? Here's a tip. Your local Raymond Support and Solutions Center is a one-stop-shop for trucks, cameras, installation, and much more. Contact Abel Womack today for more information.