September 24, 2018 –
Thump! Thump! Thump! Thump! "What the heck is that" you mutter to yourself as you analyze the enormous piece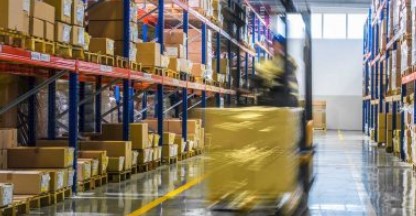 of the pie chart that is your maintenance budget. Slowly you rise from your office chair and make your way to the warehouse floor like a little kid on Christmas morning with hopes of catching Santa before he disappears up the chimney. Just as you enter the warehouse you hear Thump! Thump!  Thump! You realize that's not Santa and his glorious reindeer! That's one of your warehouse workers whizzing by on a rider pallet jack encompassed by the ungodly sound of a damaged load wheel.
This is an all-too-common problem that I encounter when I make my daily visits to various warehouses. Load wheel and tire issues are by far the most common item that eats away at a maintenance budget. Floor conditions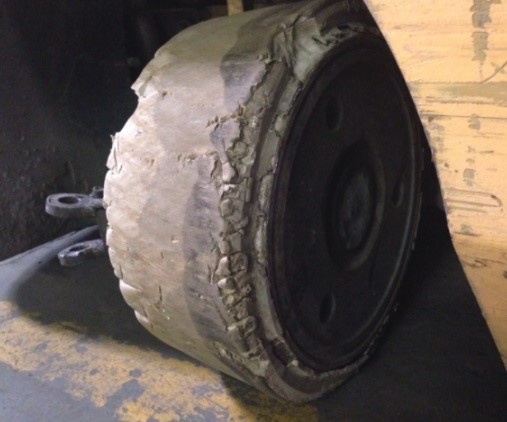 are a large contributor to the lifespan of both wheels and tires. Everything from aisle debris, such as wood chips, pallet boards, screws, nails, and more, to cracks and expansion joints, can have an impact on the overall health of wheels. Most of the time the annoying sound of a damaged wheel is ignored until eventually the wheel completely fails. This "wait and see" attitude can lead to larger, more in-depth problems with the lift equipment down the road. When wheels are damaged they cause vibrations to occur that travel throughout the chassis of the machine. As time progresses, the vibrations can cause mechanical and electrical components to loosen and start to develop bad connections, error codes, and compromised fittings. This can lead to additional issues with motors, lift pumps, and more.
Think of your pallet jack like your car. You would never drive it with a nail in the tire or a chunk taken out of the side wall. The key to extending the useful life of a piece of material handling lift equipment is remediating the root cause and then addressing the problem when it occasionally does arise at the first sign, or sound, of trouble.
Look at it this way, or should I say… listen to it this way. Thump! Thump! Thump could become the sweet sound of a cash register as those dollars that you saved by catching the problem early and not having to spend it on a capital expense purchase, pouring back to the bottom line. Oh, the sweet sound of music!