October 29, 2018 –
Business is booming: you have increased your labor force, work in process (WIP) has expanded,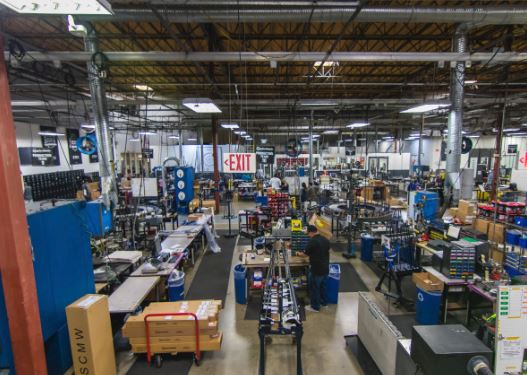 inventory is growing, and the manufacturing VP just ordered more production equipment. Oh, by the way, they need the floor space in your warehouse to set up the new manufacturing cells.
Sound familiar?
Of course it does.
Many of our customers experiencing these same challenges are looking for solutions. Vertical storage and automated storage and retrieval systems are fast becoming the accepted method for combatting the problem of loading 10 pounds of product in a five-pound bag. These vertical systems are very efficient in how they store the product and eliminate the "air" typically found in traditional shelving or racking storage equipment while at the same time taking advantage of underutilized vertical space in an ergonomically safe manner.
Here are some of the solutions we recommend with their most common benefits:
Vertical Lift Module (VLM)
Flexibility is the name of the game with VLM's. They are an excellent solution for parts with different heights and weights.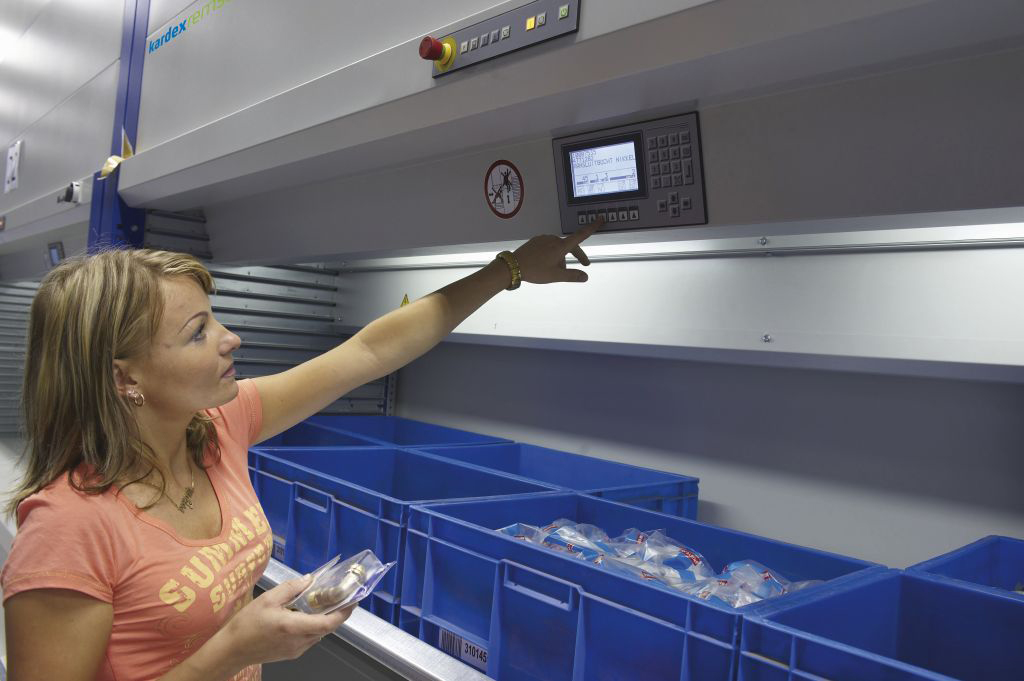 If the materials that you need to store vary from month to month or quarter to quarter and are not uniform in size, the automatically adjusted shelf heights will be of particular value to you. VLMs have several tray capacity options so they can accommodate lightweight product as well as heavy ones in the same unit. They come in varying heights from 12 to 98 feet tall, so the higher your ceiling clearance, the more you can fit. And, designed to be practical and efficient, each tray is delivered to the warehouse associate at an ergonomically ideal height. In some cases, customers add them adjacent to their storage area on the outside of their building with a simple skin around the machine- going as high as zoning will allow.
Vertical Carousel
This is great solution for replacing rows and rows of shelving holding totes. Totes can be easily transferred from shelving and onto carriers of the vertical carousel. This allows for better utilization of the vertical space above a traditional 7-foot tall shelf. To access the tote, the associate simply slides it out of the carrier onto a work shelf to act like a drawer making it possible to fit many more totes per vertical foot of space.
Intralogistics Software
Many of the systems we recommend are accompanied by an intralogistics software package that works in conjunction with vertical storage units. The software manages the inventory in the units and often automatically processes orders downloaded from the host ERP or WMS. We routinely set up processes to pick multiple orders at one time, handling serial numbers and lot codes, cycle counting, and controlling multiple units in a pod. Essentially, a pod can double the productivity of one associate. While the associate is picking from one unit, the other unit(s) can be retrieving the next pick. This is very helpful for finished goods or for kitting operations in your manufacturing cells.
Pick–to–Light Technology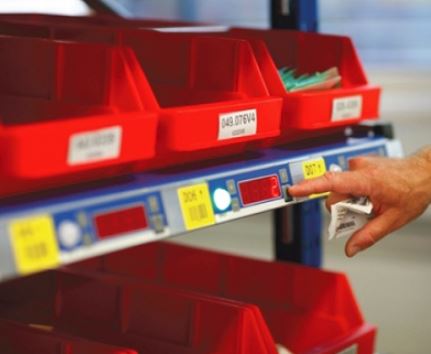 When a shelf or tray is presented, a light pointer or set of arrows directs the picker to the right location and provides a description of the parts to be picked. Used in conjunction with software, pick-to-light technology increases productivity and accuracy while reducing the extensive knowledge or training required to help associates be more productive on the job.
Observations Support the Big Bag Theory
A walk through of your operation is a great way to learn about these systems to see how, or even if, they can benefit your business. An experienced material handling specialist can ask the right questions to understand your current condition and contrast that with what your ideal situation would be.
We want to know what is going on in your business first, before we make an analysis, so the solutions we recommend can improve your performance and provide the ROI you are expecting when the implementation is completed.