February 14, 2022 –
Automation has been a buzzword as of late, a trendy term and solution that people are talking about and looking into for their companies. However, since there is a sizable upfront investment, it is vital to understand the ROI factors. Some are pretty obvious, and some others customers may not be aware of yet.
Five ROI Factors for Material Handling Automation Projects
Increased Space Utilization of Facility Footprint
You can store items more densely using automated storage systems like a vertical lift module. It allows you to capture space unavailable through traditional storage systems by storing product more densely and utilizing your entire vertical space.
Increased Output
With automated order fulfillment, you can more efficiently fulfill orders for your existing products plus diversify into additional product offerings or new categories. Automation helps optimize processes, getting more products out the door at a lower cost.
If you push more products out with fewer touches, the cost of goods sold goes down while throughout goes up, dramatically increasing profitability.
Reduction of Labor
With the correct automation, you can reduce or eliminate your direct labor costs, allowing companies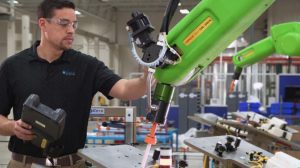 to shift their existing labor to higher-value tasks. The goal is not to reduce employees; it is to reallocate them into more fulfilling, value-driven roles that improves morale and retention. Each employee has a burden rate (salary, benefits, PTO, risk of injury, residual costs), which is constantly increasing. With the incorporation of an automated system, there is an upfront cost, but annual operating costs are dramatically reduced- often resulting in a compelling value proposition.
Reduction of Safety Issues
Automating human tasks also increases safety because people are not doing arduous labor. Improved ergonomics are a subset of automation, so products move more efficiently through the facility with fewer human touches, reducing the number of potential injuries.
Quality Enhancements
When you move to automated material handling, picking and replenishment accuracy improves significantly- which results in lower costs and, most importantly, better customer satisfaction. With many businesses selling online, there is significant costs associated with mistakes and returns. Automation often reduces those costs by reducing errors.
It's a Material (Handling) World
Abel Womack is a material handling and automation expert that specializes in all available technologies so we can evaluate your application and propose optimal, unbiased solutions. Our team can help you develop a cost-benefit analysis and ROI modeling.  To get a handle on automation, contact one of our specialists today.