December 13, 2021 –
At Abel Womack, one of the essential things we speak with our customers about is the importance of forklift safety, primarily due to the wide variety of forklift hazards that exist. Many forklift operators are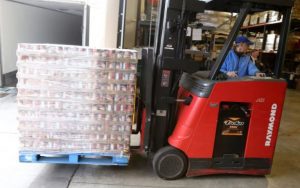 currently working extended hours given the busy season and worker shortages, and some people are rushing to get into a forklift and get to work without following the proper protocol.
The Occupational Safety and Health Administration (OSHA) mandates training for all forklift operators, whether new or seasonal. It requires that all powered industrial trucks (forklifts) be operated by those over 18. Once training is complete, employers also must certify that the operators have received refresher training and/or been evaluated every three years or more frequently if there has been a safety concern. It is imperative that companies follow the guidelines and adequately train their employees to help mitigate any potential issues.
Benefits of Safety Training
The benefits of safety training for forklift operators are extensive. We are focusing on five of the top ones here:
Safety training prevents injuries
Fewer injuries mean lower insurance premiums, no legal issues/lawsuits, and a smaller percentage of injuries for companies and their employees.
Safety training helps prevent equipment damage
With less damage comes less maintenance, less downtime for the equipment, and cost savings from replacing or repairing equipment and having a lower production volume.
Safety training prevents product damage
Less product damage leads to a lower rate of return, no replacing damaged products and significant cost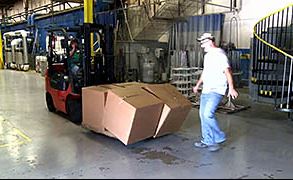 savings.
Safety training prevents warehouse damage
Safety training helps promote a safer work environment in addition to minimizing rack repair, other warehouse repairs, and forklift repair costs.
Safety training improves operator efficiency
When operators are correctly trained, it improves efficiency as they know how to operate the equipment properly and safely.
Types of Forklift Training
Various types of forklift training are necessary to meet and exceed the requirements set forth by OSHA.
There is hands-on and classroom training to renew your license, where operators learn the rules and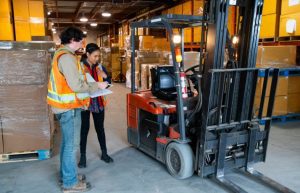 regulations in addition to learning how to operate the forklifts. Abel Womack and Raymond also offer VR (Virtual Reality) training to teach the rules of the roads before you get in a forklift, which is invaluable as it prevents any potential damage that can occur during on-the-job training. This includes which direction to look, how to check the mirrors, what to look for during operation, and more.
Many companies conduct VR training at job fairs, as it is a great way to see if candidates know how to operate the forklift prior to putting them to the test with hands-on operations.
Critical Components of On-the-Job Safety and Training
Ultimately, it is the company's responsibility to ensure their forklift operators are properly trained and stay up to date on their certification. If someone gets hurt and a company did not train them, the company is 100% responsible and will likely have a lawsuit on its hands. If the operator was trained and something happened, there is significantly less liability for the company. Forklift training and operator rules vary by state, so it also is crucial to check the specific state laws in which the company operates.
Better Safe Than Sorry
Companies should stay aware of the federal and state regulations for forklift operator training and certification and work closely with employees to ensure they are up to date.
At Abel Womack, our team works closely with our customers to help ensure they have all the necessary information to run a safe warehouse. If you need more information on forklift operator safety training or how we can help you protect your warehouse, please get in touch with our specialists today.