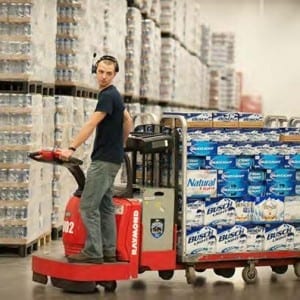 March 23, 2015 –
Part Two: Picking Management and Product Transport Methods
In my last blog post, Part One: Storage Management and Workflow, I discussed the challenges facing craft beer distributors in terms of warehouse storage issues. I explored current trends and several solutions for not only rethinking and reorganizing your current space, but the possibilities for improvement once a space has been completely outgrown. My goal is to assist you in navigating your way through the many possible upgrades your company can make that will directly affect your bottom line.
Correct Material Handling
Choosing the right product is imperative to a successful system. Its importance lies in choosing the best way to move your product efficiently and safely. Additionally, you need to consider the lifetime cost of a system, which, on top of upfront cost, includes maintenance, installation, and future modification costs, plus other considerations like the flexibility to return or change equipment as your needs change.
The mission to improve efficiency, meet new government regulations and stay on top of changing customer expectations puts the warehouse manager in a challenging position. Decision makers already know that today's business conditions call on them to partner proactively with equipment and technology providers. There is no single solution to make a warehouse run more efficiently and address the demands of today's marketplace. The recommended solution is extensive planning and research.
Touches
A touch is just that – it's how many times a product is touched while it's in the distributor's care. As a rule of thumb, companies find that the more hands touch the product, the more costs are associated with it. Eliminating touches in the overall process is a win-win because it optimizes the supply chain. The old adage of work smarter, not harder has never been truer than it is today, and working smarter means efficiency.
Every time someone touches a product, there is a danger of it being damaged. This can be from a drop, an improper placement/storage or a variety of other reasons. There also is a danger of it being misplaced or inaccurately picked.
Proper Lift Trucks for Your Operation
Choosing the right forklifts for your warehouse can make all the difference between a productive environment and an inefficient operation. A well-maintained, well-functioning fleet can mean quickly moving goods, better warehouse efficiencies and a healthier business overall. It affects everything from productivity, operation costs, stock management and employee morale. There are a variety of factors to consider when purchasing a new forklift.
The potential of increased demand, new SKU's and new customers are crucial variables that should be factored into the decision. It's important for distribution operations to be flexible and react rapidly to changing economic conditions and an evolving product line.When determining the appropriate forklift for your operation, ask:
how much product are you picking?
how are you picking it?
what are you picking to; a pallet, cart, etc.?
how high are you picking?
how narrow are the aisles?
The answer to each of these questions will yield varying outcomes, and will help you determine what truck is appropriate for best productivity and ergonomics.
Sit-down trucks are becoming increasingly inefficient, as the industry has swiftly evolved to more proficient stand-up counterbalanced and walkie rider pallet trucks. Changing your sit-down trucks to stand-up lifts can drastically improve pick time and ergonomics for drivers.
Picking Solutions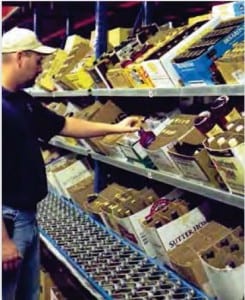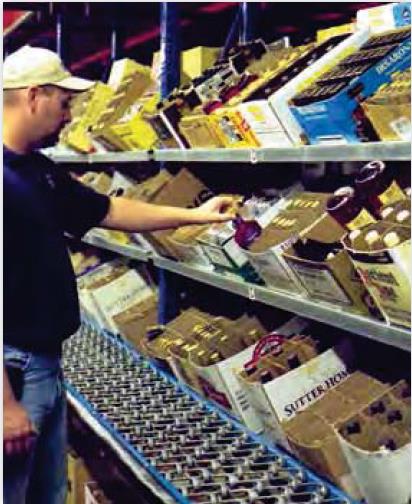 SKU proliferation is a particular challenge facing beverage warehouse managers. Different retail channels usually require different caseloads. Picking systems have to be more flexible. This requires a more robust warehouse management system, without which, the bottom line will suffer in the long run.
As a company expands into more networks, it must reconsider the procedure of handling customer orders, from receiving to shipping, which can change as functions automate. If beer distributors are still using paper to pick their orders, it is imperative for continued growth and success that they automate the process in an effort to save time and money, improve productivity and accuracy.
Voice technology, for instance, has expanded from picking functions to real time replenishment, quality control, and is being utilized in both receiving and shipping processes. It has virtually become an independent warehouse control system.
Brewing New Solutions
Abel Womack has years of experience helping beverage distributors transport thousands of SKUs accurately and more efficiently. We understand the importance of smoothly maneuvering large quantities of product in both a tight space and across large distances.
As technology keeps evolving, we can design a system that can be scaled or modified to fit changes in your growth of products. We are here to help you create more opportunities to improve warehouse efficiency. With our size, expertise and portfolio of products and technologies, we provide our customers with the best and most cost effective solutions to give you the competitive edge.