April 25, 2022 –
This year, the material handling industry is still dealing with unexpected real-world challenges. Unfortunately, slowdowns in production continue and now the war in Ukraine. Despite all this, the industry is experiencing record volumes which is driving an unprecedented level of industry backlog and increased lead times both at The Raymond Corporation and other forklift manufacturers.
Industry retail orders are more than 50% larger than any year in history, with seven and a half years' worth of e-commerce growth happening in just four months. Industry backlogs are up more than three times historical levels, which is equivalent to a year's worth of industry production capacity.
Based on this historic data, you may be compelled to buy older, pre-owned equipment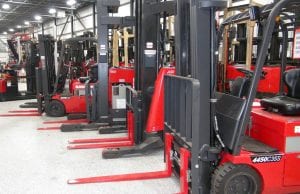 from your vendors due to unprecedented lead times to keep up with demand. Depending on the model, new equipment lead times are anywhere between six months and two years versus certified pre-owned equipment lead times ranging from 4 to 12 weeks. On top of that, pre-owned and rental equipment is going fast due to this ever-changing climate. So, if a forklift is available, jump on the offer because it won't last.
All manufacturers are dealing with the same challenges, so don't buy a lemon
Quality of service and rebuilding of pre-owned equipment is more important now than ever before. Abel Womack's highly skilled field service technicians have the best first-time completion ratio on repairs. Our shop technicians hold the highest standard of quality with equipment rebuilds in the Northeast US. If you're experiencing excessive down time or repeat repairs with high costs, make sure you have the right material handling provider to determine what to do- fix it or replace it.
Below is a brief guide towards the dos and don'ts of purchasing equipment to decide the best course of action.
When to buy a pre-owned reconditioned replacement
The equipment is so old the parts are currently unavailable.
You can't wait six months to two years for a replacement.
The annual cost to maintain your truck exceeds the annualized cost of new or pre-owned one.
Ex. A pre-owned sit-down forklift costs approximately $20K financed for 5-years = $368.24 per month. If you're spending $4k or more a year on repairs with down time, replace it.
If the equipment has 10,000 to 15,000 operating hours, be proactive and look at a replacement now rather than later.
Three different levels of pre-owned equipment available to meet your needs
1. As is "Rental Ready": Can't wait, I'm in a rush, deliver it right away. This option falls under the circumstances that an operation is in dire need of the equipment to survive or has budgetary constraints. We still go through inspection to ensure complete operation upon delivery, and it comes with a 30-day warranty to ensure equipment satisfaction.
2. Certified pre-owned: This is the most popular level of equipment offered and sold. Equipment is reconditioned with the 30-day bumper-to-bumper warranty and 180 days major components warranty.
3. RAYMOND RENEWED: The premier, fully reconditioned equipment program.
Your Raymond® Renewed Premium Warranty provides a buy-back guarantee as well as a limited warranty.
Material handling specialists like Abel Womack can do a free analysis of your operation to further educate and assist on selecting the right fit for you. Please contact us if you have any questions regarding pre-owned equipment or any other material handling needs.