April 20, 2020 –
Go into any warehouse, whether it be a sprawling building the size of a small town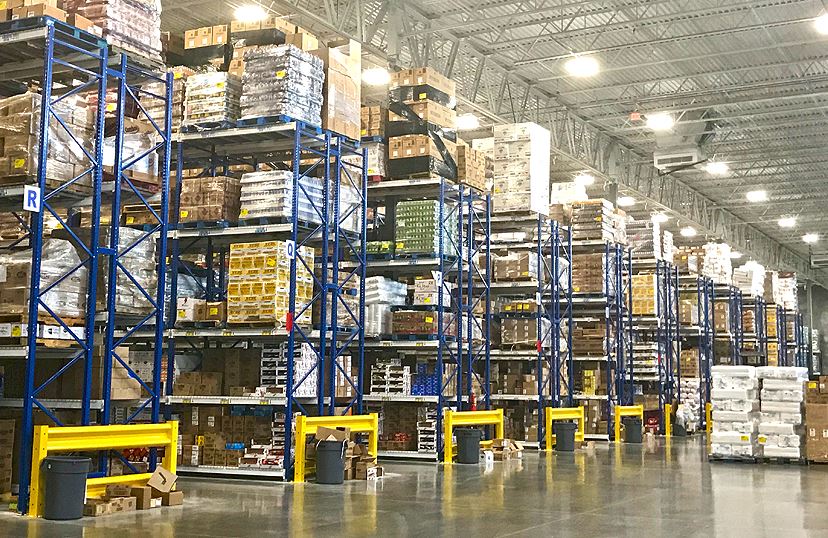 like Amazon or a startup company working out of a converted garage, and you will likely find pallet racking. A staple in most warehouses, it's used for pallet storage, carton storage, spare parts storage, and hundreds of other items. Pallet rack can be purchased at both ends of the spectrum-online from used wholesalers or from system integrators as an engineered system. No matter the intended use or origin of purchase, the most overlooked part of the racking system are the accessories. These can be added to increase impact resistance and improve performance. These pallet rack accessories and options can make the difference between a system that simply holds product for its useful life to one that holds product, resists damage, lasts decades and improves efficiencies within the warehouse.
Rack Accessories Defined
Front Bumpers: Steel, triangular guards located at the base of the upright frame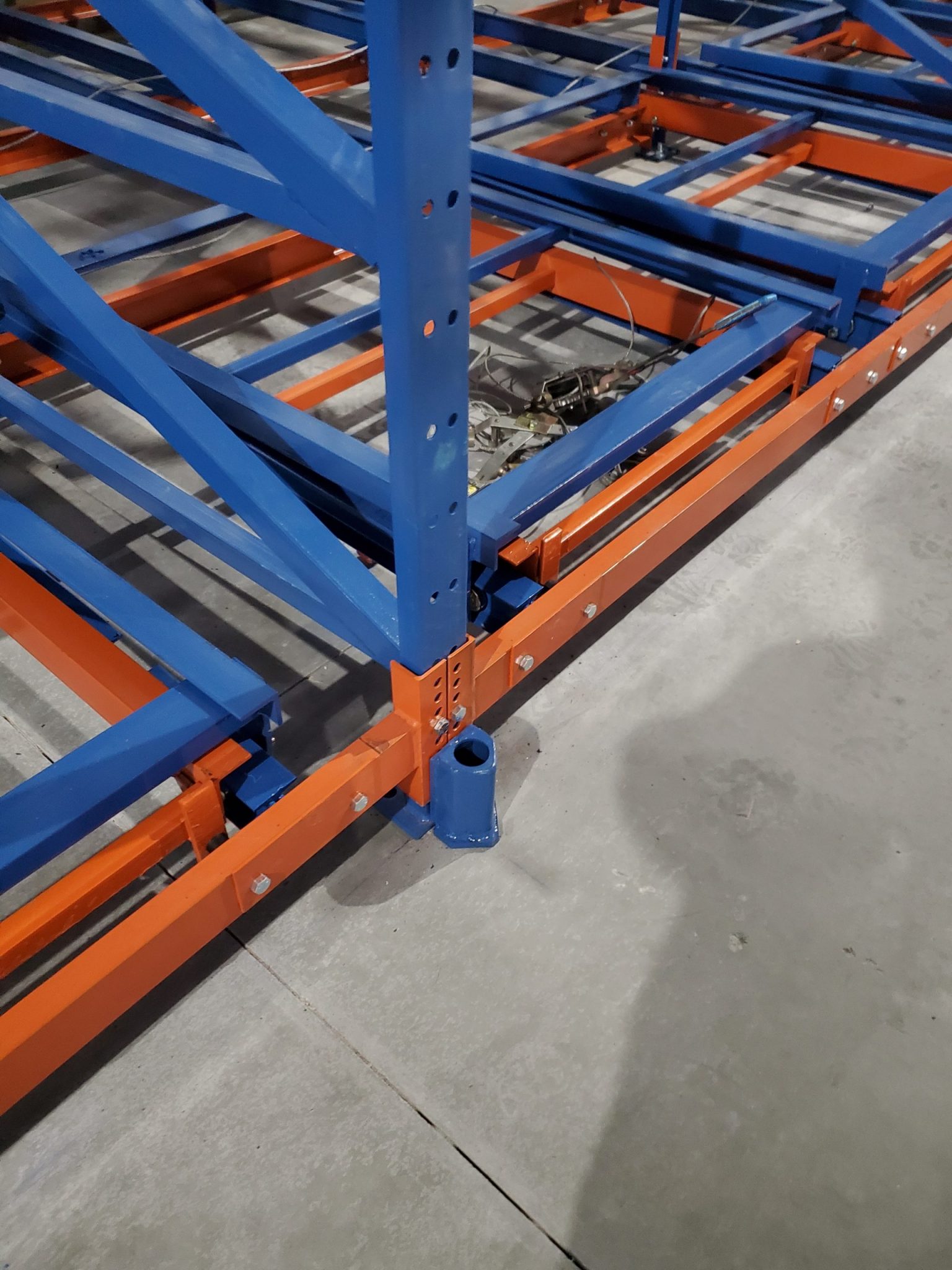 above the baseplate offer protection from impacts, particularly from reach truck baselegs. They can be welded or bolted on. The bolt on style requires additional labor during installation, but offers the advantage of being replaceable, if damaged. This is one of the most advantageous add-ons to pallet rack that many people overlook. The aftermarket guards which are often added afterwards do not perform as well nor offer the same durability.
Heavy Duty Rub Rails:  Supplemental horizontal braces are added to the base of the upright, running from the front to rear vertical column. They offer two advantages. The rub rails are designed to deflect impacts from forklifts when entering the rack or traveling alongside them, as in a tunnel. They also improve overall rigidity of the upright, increasing overall impact resistance from any direction.
Double Columns or Reinforced Columns:  Often, with an engineered rack system, the vertical columns of the uprights are 'doubled' or reinforced with additional steel to meet capacity requirements. However, these options also help bolster the upright frame to further assist in reducing damage from impacts. These reinforced columns typically extend to at least the first shelf level and greatly improve impact resistance of the upright frame. These are a great choice in high impact areas such as freezers, row ends and tunnels.
Wire Decks and Pallet Supports:  A common mistake when ordering racking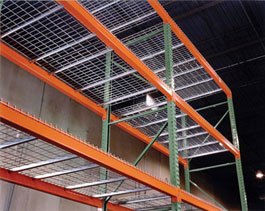 without consulting a rack professional is to utilize two shelf beams as a shelf with no wire decks or pallet supports. The two beams are typically adequate to support a pallet but adding supports or decks offer huge advantages. Pallet supports are horizontal steel channels which run from the front shelf beam to the rear. Although not always a requirement, they reduce the chance that a pallet will fall through the opening left between the front and rear beams. Furthermore, pallet putaway is simplified since the operator does not have to worry about 'missing' the two support beams. Additionally, efficiency is gained as the operator can perform the putaway faster, spending less time positioning the load.
Wire decks offer the same efficiencies and safety improvements as pallet supports but with the added advantage of creating a near solid surface. This allows storage of smaller, less than pallet loads. Wire decks also offer reduced installation labor as they are a 'drop in' solution.
Colors:  Varying shelf beam colors offer significant safety advantages. Many rack manufacturers, like Unarco and Ridg-U-Rak, offer multiple color choices in rack components. Coloring load beams based on capacity allows for easy identification by the forklift operator when placing loads in the racking. It also reduces the possibility that a 2,500-pound load be placed on a shelf rated for 2,000 pounds. Another use of multicolored beams is in high bay storage accessed by man-up machines, like the Raymond Orderpicker. Varying colors adjacent to tunnels or pedestrian walkways alerts the operator that he or she is entering an area that requires added attention to their travel path.
Label Beams:  Most warehouse operations require labels affixed to the shelf beams to indicate pallet locations. However, maintaining these labels can be a challenge. They are often torn or otherwise damaged by forklifts interacting with the rack. Label beams, like those offered by Frazier, offer a protected, recessed location for the labels. They save time and money over the life of the pallet rack.
Ergo Beams:  Picking orders from the first level of racking is a common strategy but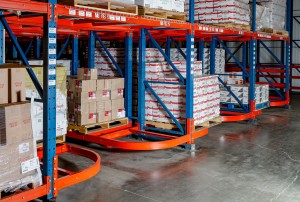 can be a challenge. Once the front half of the pallet is picked, the operator needs to reach to the rear of the pallet to access the remaining product or remove and rotate the pallet. A great solution for this is Frazier's Ergo Beam. The unique design of this beam allows the picker to walk between the two pallets on the lowest shelf, allowing full access to all product.
Pallet Rack Backstops:  An issue we often encounter is operators pushing pallets too far back into the flue space (space between a double row of rack). This can affect the efficiencies of an overhead fire suppression system. This also may cause product on the opposite side to be pushed off the shelf. A pallet backstops can easily address this. Pallet backstops come in multiple designs. The most common being a beam similar to a shelf beam but with an offset to allow the typical three-inch overhang of the pallet. These are easy to install during the rack assembly process but are more difficult to install after it is erected. So, plan ahead!
Row End Protectors:  One of the most susceptible areas for damage are the row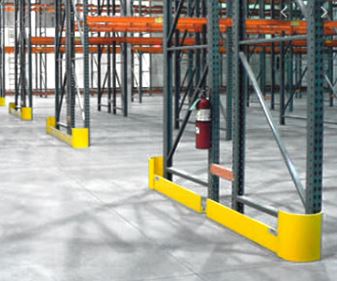 ends, particularly at the loading dock end. Whether from forklifts entering the aisle at improper angles or pallets stored at row ends prior to shipping or putaway, damage is inevitable. Spending a little extra time and money to install floor-mounted row end guards or rack mounted guards, or both, will greatly reduce rack damage.
Pallet Rack Protection Delivered
These are only a portion of the rack accessories available that will improve operational efficiencies, reduce damage, lower your costs, and create a safer workplace. So, the next time you need new pallet racking, call the professionals, and ensure you build the best system you can at the start. You also will enjoy positive returns for years to come.