June 14, 2021 –
Adding space via new construction for a warehouse, manufacturing operation or an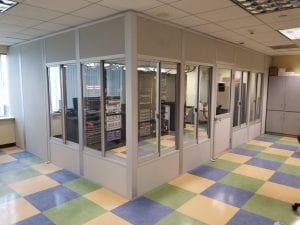 office area can be time-consuming, expensive, and disruptive. But it doesn't have to be that way. Creating a new office space, a new separation wall or a temperature-controlled workspace can be installed quickly, affordably, and within your existing building.
Welcome to the flexible world of modular offices
Because modular offices rely on prefabricated components as opposed to a traditional construction project, they can be quickly set up in a wide variety of applications and for far less up-front costs. Here are some of the many advantages of modular offices:
No permit required: If you've ever had to add space or build additional structures to your existing operation, you know how frustrating the permitting process can be. Modular offices rarely require a single permit, meaning you can streamline the installation process and keep your operation moving.
Location flexibility: Modular office spaces can work almost anywhere in your current space, and they can be as small as a one-person security booth or pretty much as large as you'd like. We can even put the modular office on a mezzanine, capitalizing on vertical space to allow you to use the space underneath.
Tax Benefits: Many new construction projects only allow a certain percentage of the cost to be written off each year. That's not the case with modular offices. You can write off 100% of the cost of the project in the first year, making the accounting department very, very happy.
Speed and Efficiency: We've all been involved with construction work that takes longer than we hoped. Modular offices are installed quickly and efficiently. This allows for less down time and fewer interruptions in your daily operation.
Endless Customization: Modular offices can be as simple as one wall with a door and as complex as a fireproof space with full ethernet capabilities that has climate control and noise cancelling spaces. Modular offices are designed to suit whatever you need for a new space.
Uses for modular offices
Warehouse/factory offices
Conference rooms
Inspection rooms
Paint rooms
Electronic equipment rooms
Shipping/receiving office
Lunch/break rooms
Machine enclosures
Packaging rooms
Security booths
Utilizing your existing open space to create functional, purposeful space is precisely the reason modular systems are so popular. They allow you to maximize your current bandwidth while keeping costs down and streamlining the building process. Abel Womack has years of experience working with clients to install the perfect modular office for their needs. Contact Abel Womack today to talk to our team about your modular office needs.