November 28, 2022 –
One of the industry buzz words you may have heard being mentioned in the past few years is intralogistics. I admit, it is a mouthful, but what does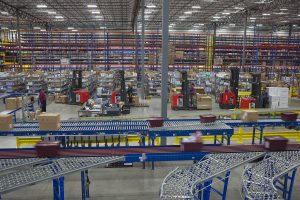 it mean?
Define Intralogistics
The definition of intralogistics is the process of optimizing, integrating, automating, and managing all the logistical physical and information flows of supply, production and distribution within a warehouse or fulfillment center.
To simplify, intralogistics addresses how to efficiently handle your warehouse operations. This can include material handling, information and material flow, process optimization and how to integrate with the latest technologies.
As part of the Raymond Solution and Support Centers network, we're able to provide a suite of complete intralogistics solutions to help organizations stay efficient and productive in today's competitive environment. From forklifts to connected technologies and automated storage to robotics, Abel Womack offers operations a single source for data-driven solutions, exceptional service, and innovative products, including:
Material Handling Equipment — forklifts, energy products, racking, conveyors, pick modules and carousels- all to help you efficiently store, pick, pack and ship your products.
Connected Technologies — telematics, labor management systems, operator assist technologies, asset and maintenance management systems, virtual reality simulation and e-learning technologies, and real-time systems that provide scalable, flexible, and intelligent warehouse solutions that move organizations to the next level.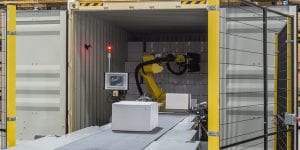 Automation — robotics, automated guided vehicles, automated storage and retrieval systems, and lean management consulting services to improve productivity, ergonomics and reliability; systems that work around today's lack of reliable labor.
Support Services — engineering services, slotting, operations expertise, data analysis, equipment maintenance, and financing are available to help simplify the integration and implementation process.
Benefits of Intralogistics
Companies are reaping the benefits of intralogistics solutions in their day-to-day operations. Warehouses and distribution centers are gaining complete visibility through smarter, more connected, and more efficient processes and technologies. By providing complete intralogistics solutions, Abel Womack is empowering companies to optimize, connect and automate their operations with a variety of tools and services.
Ready to realize the benefits of intralogistics solutions? Contact one of our specialists today.