September 6, 2016 –
I find it surprising that there is so much being said and written on how automation is hurting the average worker and dampening economic growth. There seems to be a couple of prominent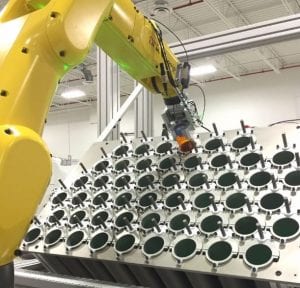 articles written weekly and a growing number of talking heads on CNBC and Bloomberg opining on the dangers of automation. Literally, they often speak of their concern for the next generations and the economic trauma that will ensue upon the collapse of the workplace as we know it. And right now, we have pretty much full employment, so imagine the vitriol during the next recession.
I get the concern that robots and other forms of automation reduce the need for physical workers. And right on its heels is the explosion of artificial intelligence and its effect on knowledge workers. It's certainly having a profound effect, but I see it as mostly positive, necessary and unstoppable.
The industrial revolution changed the world- for the good. Productivity, consistency, quality and safety all benefited. The "automation" revolution will have the same effect and there's no stopping it. If we've learned one thing throughout history, it's that progress cannot be thwarted simply because it changes what is. Progress is inevitable and should be embraced.
For physical workers, I see two critical points. First, automation not only does repetitive work faster and more efficiently, but who wants to subject their bodies to a daily dose of 'picking things up and putting them down'? In our company, workplace injuries and workman comp costs are a continual concern; particularly for our aging baby boomer workers. Secondly, repetitive physical labor is boring and non-enriching. People deserve a more challenging and interesting environment as they spend the better part of their lives working. And for those souls who simply choose physical work, there will always be the trades, construction and other non-repetitive jobs they can select from.
For knowledge workers, it's all about collaborating with Artificial Intelligence (AI); I think the term used is augmentation. Let
the machines have their role at what they simply do better than us and look for the entrepreneurial and creative work that humans excel at. What would we all be without calculators? They are faster and more accurate than counting fingers and toes, but they still need someone 'pushing their buttons' to be of any value. It will be the same for supercomputers. They will have their place and we will have ours. They do the calculating while we give them the reasons. I know that there's grave concern that AI could ultimately understand those reasons better than we do and truly preempt the need for human intelligence. That's cool with me, as maybe then we'll have the time and inclination to become more enlightened, truly care for each other, eliminate the reasons for violence and reach our full potential. How bad would that be?
In the end, automation will improve people's lives and the overall standard of living. Let's stop the paranoia and embrace this revolution just like its predecessors. Sure, it will be daunting and some individuals and segments will experience setbacks, but if we stop fighting progress and look to best leverage it- we'll be so much better off.
Now, I only wish we had a machine running for president. With integrity and empathy built into the core processor and any average eighth grader doing the programming, it has got to be better than our current choices…just saying!