April 11, 2016 –
When you start looking at automation within your facility, are you aware of all the options available today and the cost benefit of those options? Automation can mean something different to each company so it's best to determine what your needs are upfront.
• Are you looking for higher throughput?
• Are you looking to reduce workplace injuries and remove repetitive tasks within the organization?
• Are you out of space and need more storage within the same footprint?
• Do you need automated equipment because you simply can't get the required staff?
• Are you looking to cut costs?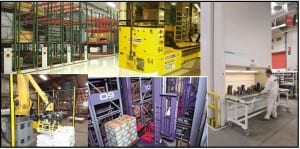 These are just a few of the factors to consider when you are looking to automate. Peering into the future, you will find an array of unique products that you may have once thought were out of your financial reach. But the landscape is changing, and automation is here today! Below are a few examples of automated equipment used in today's warehouses and distribution centers. As demand for equipment increases and technology improves, the price point gets lower, creating a win-win situation for everyone.
Daifuku Webb SmartCarts® – For as low as $ 42,000 per machine, you can have an automatic guided vehicle (AGV) do specific routine moves for you, thus freeing up your staff for more important jobs (i.e., moving cardboard bins to the baler area automatically, or using them to transport product from one station to another).
Daifuku AS/RS – From mini-load systems (for cases and totes) to full pallet put-aways and picks, this automated storage and retrieval equipment delivers the product or the pallets to you at very high speeds with no operators.
Kardex Remstar –Maximize your vertical storage density with Vertical Lift Modules (VLMs) and carousels. Pick product more efficiently and with better accuracy utilizing these automated storage devices. If you don't have tall ceilings, minimize valuable floor space with horizontal carousels. Let the product come to you, and increase your picking efficiency and speed.
Mobile Racking – Power your rack by placing it on motorized carts, creating aisles only as you need them! Take all the wasted aisle space and turn it into additional storage space. In some applications, you can nearly double your pallet location while maintaining selectivity in the same footprint.
FANUC Robotics – Remove the potential for work-related injuries caused by repetitive tasks and let a robot do the work. Utilizing vision systems, industrial robots are now very intelligent, and can stack or unstack mixed case pallets.
Today you can automate the simplest task and save money doing it. If it requires manpower to move it, you can automate it. Need help reviewing your current operation and making suggestions to help you improve it? Contact our automation experts for a complimentary analysis.