January 10, 2022 –
I saw on this morning's Sunday news programs a segment that showed how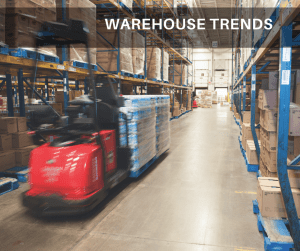 many societal and business trends have been significantly accelerated by the pandemic. Of course, remote work trends seem to be at the top of the list. In addition, the acceleration of online shopping continues to increase significantly. I regularly now see packages arriving seven days a week in a window from 9:00 am to 8:00pm and sometimes later.
This significant increase in online orders represents just one of the many challenges that companies' and their warehouse teams must deal with. The supply chain in general is undergoing significant changes as those that are best at online marketing seek a lower cost and more direct route from order placement to customer fulfillment.
In addition, the pain caused by Covid disruptions has forced companies to rethink just-in-time (JIT) inventory practices. While all this is happening there is a shortage of qualified workers for the logistics industry. It's a challenge and a real opportunity for those forward-thinking logistics professionals.
Trends
Here are some of the accelerating trends I'm seeing that affect space utilization in your existing facility and productivity of your existing or diminishing workforce.
1. Increased inventory levels: Try to find a JIT consultant these days. It is a tough thing to do. More inventory means pressure to use your existing space more efficiently.
2. Increased levels of work in process (WIP): Supply Chain disruptions can cause WIP to build up. Be prepared to manage this problem, it will be helpful.
3. Social distancing: Covid 19 will someday cease to be a pandemic but will likely turn endemic like the flu is now. Some form of keeping your distance will become more accepted for all the right reasons of preventing even the common cold. Workforces will be tight and every team member counts.
4. Flexible warehouse infrastructure and processes: Changing consumer habits and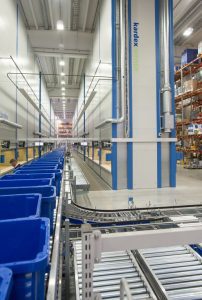 online ordering will continue to pressure warehouse operations to embrace the Omni-Channel trend for fulfilling orders. Case pick will give way to piece pick over time. This means the equipment and infrastructure will move from more manual processes to automated systems in many cases.
5. Increased density of product storage: All this change will require much better utilization of the cubic storage capacity of your building. Vertical storage and goods to person systems will move from leading edge to widely accepted practice.
6. Better inventory visibility and management tools: Strong intralogistics software to manage and track inventory levels, lot numbers, FIFO and more will be needed to stay on top of increased inventory levels and the trend of smaller decentralized warehouse operations that the omnichannel pressure will bring.
7. Increased need for cold storage density: Our realization that pandemics and other major disaster scenarios can and will happen has supercharged the healthcare manufacturing industry. They are seeing many if not all the same trends discussed above with the added challenge of keeping their inventory at temperatures as low as or lower than -20C. This inventory is very valuable both in cost and its value to society when it is needed in a hurry.
Intralogistics Solutions
I talk to warehouse professionals every day, but I always welcome the chance to discuss these issues or other issues I haven't highlighted in this post. None of us knows it all but if we keep an open mind and work on developing solutions that have a good ROI, we can improve what is increasingly being recognized as the heart of the business…….the intralogistics operation that keeps materials, raw through finished, moving efficiently through your building.