September 19, 2022 –
Forklifts are everywhere in our industry. As an essential piece of equipment for U.S. supply chains, there are more than 1 million forklift trucks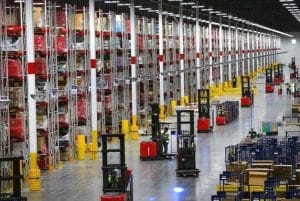 helping these businesses stay organized and productive. They are one of the most common tools used to improve operational efficiency. Being pieces of powerful machinery, they can be quite hazardous when not used properly, causing workplace accidents that can result in facility damage, product damage, operator injuries and, in some instances, even deaths.
The Occupational Safety & Health Administration (OSHA) issues thousands of violations, annually, resulting in costly fines north of $135M. OSHA estimates that forklifts are involved in over 110,000 accidents/year, of which 35,000 resulted in serious injuries and almost 100 deaths. It goes without saying that optimizing forklift safety is a critical way to prevent these costly fines and tragic accidents. Here are five ways companies can optimize forklift safety:
1. Make sure all employees that operate these trucks are properly trained and certified to do so
Studies show that proper training and education is a GREAT accident deterrent. Companies must develop and implement training programs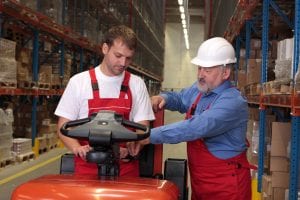 based on the basic principles of safe operation, the types of trucks used in their operation and the potential hazards in the workplace while adhering to the requirements of the OSHA standard. With these training policies in place, approximately 70% of workplace accidents can be prevented. Operators MUST be properly OSHA certified to operate this equipment. It is a two phased course that involves classroom training along with a test and hands-on evaluation to pass this course. All this training and certification information is on the OSHA website.
2. Understanding the load capacity and stability triangle of your forklift
Many accidents occur because operators are unaware of the actual weight their trucks are capable of handling. Forklift tip-overs due to overloading is the leading cause of forklift accidents. The capacity refers to a balanced load carried on the stated load center of the truck. This capacity can be found in the operator manual and must be shown on the truck's data plate. Capacities can change depending on the length of the load being handled. The longer the load being handled and the higher the load is elevated, the lower the truck's capacity becomes. Taller trucks will downrate in capacity the higher the load is lifted and if any forklift attachments are being used, there will be further downrating due to the weight of the attachment and the extended load center. Attachments are tools that are installed on the trucks fork carriage to better handle certain types loads, such as carton or roll clamps, slip sheeters or fork extensions.
These three points factor into the trucks center of gravity or load center. This is sometimes referred to as the stability triangle. This triangle is formed by connecting the two front wheels with the pivot point of the rear axle. When handling a load, the load center of the truck is the center of this triangle, generally 24" or half the length of the most common load length of 48" deep. When you handle longer loads, the load center is pushout out from the center of this triangle and begins downrating the truck.
3. Perform regular maintenance and daily inspections
Regular maintenance of your forklifts is not just a great way to extend the life of your truck, it is also the best way to ensure forklift safety.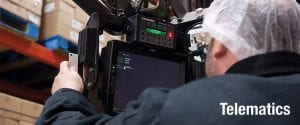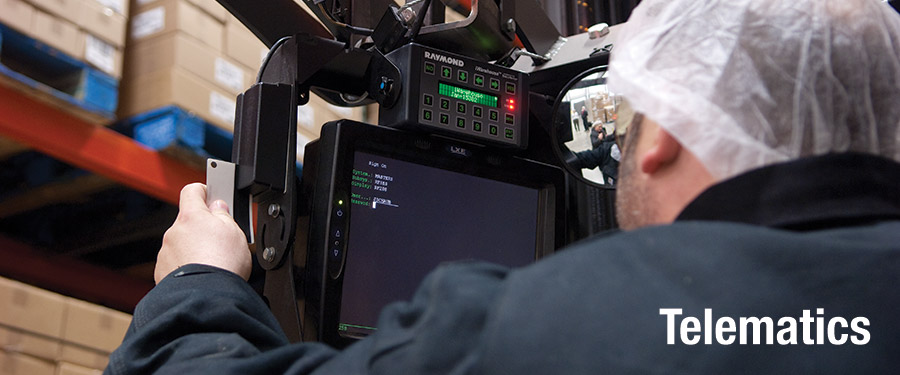 Regular maintenance safeguards your forklifts against problems that go beyond normal wear and tear. Daily safety inspections performed at the start of each shift is an OSHA requirement. Records of these inspections must be kept and presented in the case of an OSHA inspection. If the truck is found to have a problem, it must be tagged out of service until it can be repaired. By keeping your forklift in top operating condition, you help prevent problems that could lead to an accident, and you will have a safe operating experience.
4. Be aware of the work environment
A lack of awareness in the workplace is always dangerous. It can lead to employee accidents and damage to the truck, your products and even your facility. Most accidents occur when the operator or someone in the forklift's vicinity is NOT paying attention. Operators should always pay attention to where they are going, using audible alarms and lights to alert others of your presence, making sure the loads they are carrying are balanced and within capacity, and driving safely.
There are now inexpensive but effective systems to alert operators via audible alarms when a condition arises that the operator should note.
5. Store forklifts properly when not being used
It is important to store your truck properly when not in use. Trucks should be parked on level, flat surfaces, with the key removed. The parking brake should be engaged if there is one, and make sure the forks are fully lowered and flush to the ground.
These five simple actions can help protect your employees, prevent accidents, and save lives. To learn more about our programs to help you improve safety throughout your facility, visit contact us today.