June 21, 2021 –
The future of warehouse optimization is now, and it looks like Raymond's iWAREHOUSE Real Time Location System, or RTLS.
Raymond introduced iWAREHOUSE in 2008, and perhaps the biggest leap forward since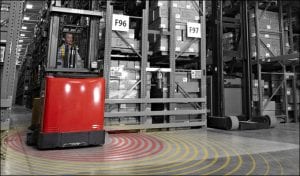 that unveiling is RTLS, which allows users to improve efficiency and productivity by monitoring the movements of lift trucks, personnel, and other assets in your warehouse.
In the right place at the right time
RTLS can accurately geofence, zone, and track locations, coming in at a specificity of +/- three feet. What does that mean for you? It means a more efficient and safer warehouse where productivity increases and downtime decreases.
Some of the benefits of deploying RTLS include:
Reduce MIA pallets and lower inventory costs
Enhance productivity by ensuring proper equipment utilization
Improve throughput by eliminating bottlenecks
Lower labor costs by minimizing unproductive hours
Increase customer satisfaction and cut costs with faster, more accurate order fulfillment
RTLS can tell you which truck or operator last handled certain products, and where and when
Greater customer satisfaction with more accurate and timely deliveries
Valuable insight
Forklift tracking allows warehouse managers to better understand how units are (or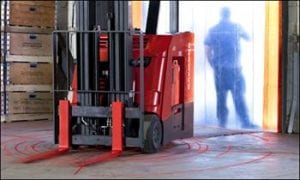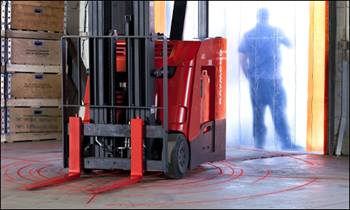 aren't) being utilized. Are units sitting idle in a corner wasting valuable space that should be redeployed elsewhere? If so, RTLS will help identify that.
Are there areas of congestion that need mitigation to create a better flow in your warehouse and lower impacts? RTLS can help with that, too. This system also can be integrated with your existing business system to gain deeper insight into your warehouse operation.
The geofencing and zoning features are immense, and the safety features within them are first class.
Proximity awareness to help prevent forklifts from entering pedestrian walkways
Alert operators if a low doorway or tunnel cannot accommodate the collapsed height of the truck
Creates off limit areas for specific forklifts based on your specific criteria
Operators and pedestrians are alerted when equipment enters restricted areas
Get operational optimization
Raymond's iWAREHOUSE RTLS is not for everyone. This is for large-scale operations (100,000+ square feet of warehouse space) that have a lot of traffic and a lot of assets to manage. This is the future of warehouse optimization, and we're here to help. Contact Abel Womack today and we'll discuss your needs and more details on what RTLS can offer. If this system fits with your operation, we'll set up an educational session with Raymond to walk through the entire process of outfitting your warehouse with RTLS.