January 11, 2016 –
If you're working with Surface Mount Technology (SMT) or Electronic Board Technology, and have started to notice issues with your current picking system, then it might be time to reevaluate the status quo. Maybe a few orders have had errors; perhaps your floor is too crowded; maybe it's getting harder to keep your circuit boards, controllers and other components organized.
When it's all said and done, the end goal of your picking system should be organizing your reels and providing easy access to them. While upgrading can seem like a daunting undertaking, there are ways to reconfigure your current setup and improve your production time.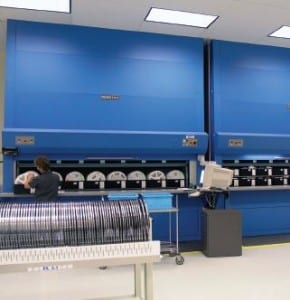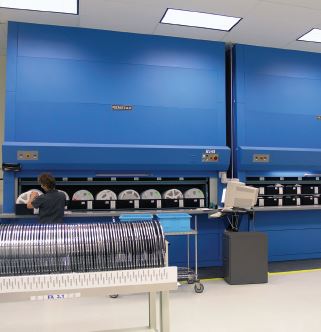 If you don't have a good handle on inventory and spend too much valuable time searching for and manually picking products from racks or cabinets, here's a solution you should consider.
Carousels offer high efficiency while providing hi-density storage in a small space. Get organized with an aesthetically pleasing, ergonomically beneficial carousel. Each carousel has special composite posting board on the front side for electrostatic discharge (ESD) conditions, with a wire attached to both the operator and the machine to avoid static build up.
Carousel carriers and adjustable shelves bring stored products directly to you, at an ergonomically designed height. Light directed picking and bar code confirmation assure the correct component is retrieved. The software retrieves reels in an optimal sequence based upon location in the carousel. In addition to the incredible speed and accuracy of picking, you will likely gain considerable floor space even while increasing storage capacity. With the additional room, you could potentially add more production equipment, further increasing your return on investment.
Software for the carousel, such as Kardex Remstar's Power Pick Global, can run all of the following order picking technologies to ensure 99.9% accuracy:
• Light directed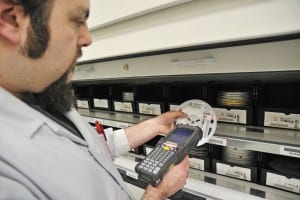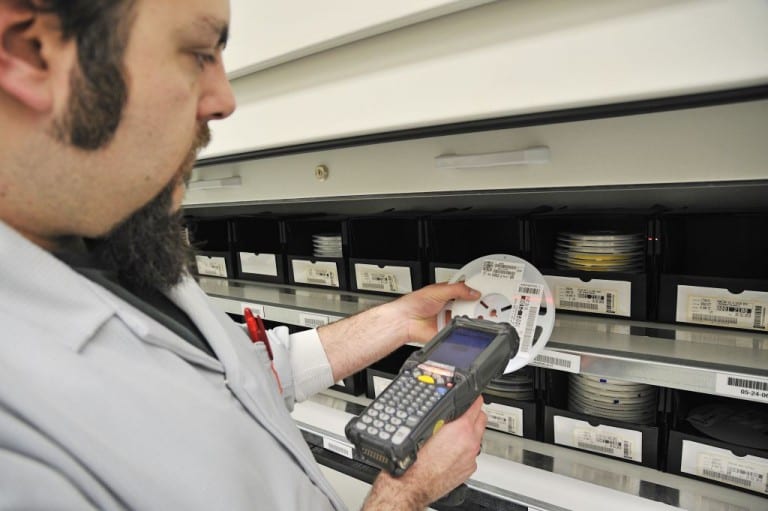 picking – easy to learn, extremely accurate, and great for FIFO inventory control
• Bar code confirmation – simply scan the reel or the location
• Lot Number and Serial Number
• Label printing – the system can print labels with identity and quantity information
Take Control
With this new technology managing your inventory, the software records all transactions, guaranteeing traceability of your inventory with serial numbers – the documentation you need to properly manage.
Productivity is always a major concern of any storage facility director. With automated picking, you can pick more than one reel at a time, increase picking speed, accuracy and efficiency, and possibly reduce labor requirements. The software spins the carousel in the shortest, most logical order to deliver items.
Case Study
One customer in Long Island serves as a contract supplier to the aerospace industry. They currently operate with eight carousels and have been operating with this technology for the past five years with great success.
Ongoing Support
Your material handling supplier should provide ongoing support for your product purchases, including any issues you might experience with the system or software. That said, carousels are highly reliable and typically come with a 5-year warranty along with a yearly software license agreement.
What products are you currently using to manage inventory and how is it working?