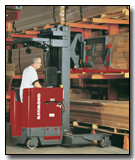 If you need a lift truck for six months or more, don't just rent it, rent from Abel Womack and have part of your already discounted monthly rental fee applied to your next equipment purchase.Use your Rent Equity towards the purchase of any new or used lift truck from Abel Womack or any item from the Abel Womack equipment catalog.
Contact Us to Learn More
We would love to hear from you! Please fill out this form and we will get in touch with you shortly.