July 9, 2018 –
Have you been thinking about making some updates to your fleet but need to be smart about your spending and timing? Purchasing pre-owned equipment gives you access to top-of-the-line trucks – well-engineered and well-built – when you are looking to add to your fleet on a short timeline, need to replace equipment on a quick turnaround, or want to acquire a great truck cost-effectively. Not to mention, your enhanced buying power could allow you to spend roughly the same and get two pre-owned forklifts for the price of a new one.
Leave it to us
But if you're worried that you might end up with a lift truck that looks a little too much like Cinderella before the big makeover, you've got nothing to fear: our technicians inspect and repair every forklift from top to bottom to fix anything and everything including cosmetics and cleaning. All our reconditioning happens with onsite factory-certified technicians, so even though the "befores" might look a little rough, the "afters" will look and operate like new.
Our inventory is primarily Raymond, although we occasionally have Toyota IC trucks, and most often come from end-of-lease returns or former rentals. We stock a little bit of everything from stand up, sit down, reach, order pickers and pallet jacks, and regularly have used truck specials on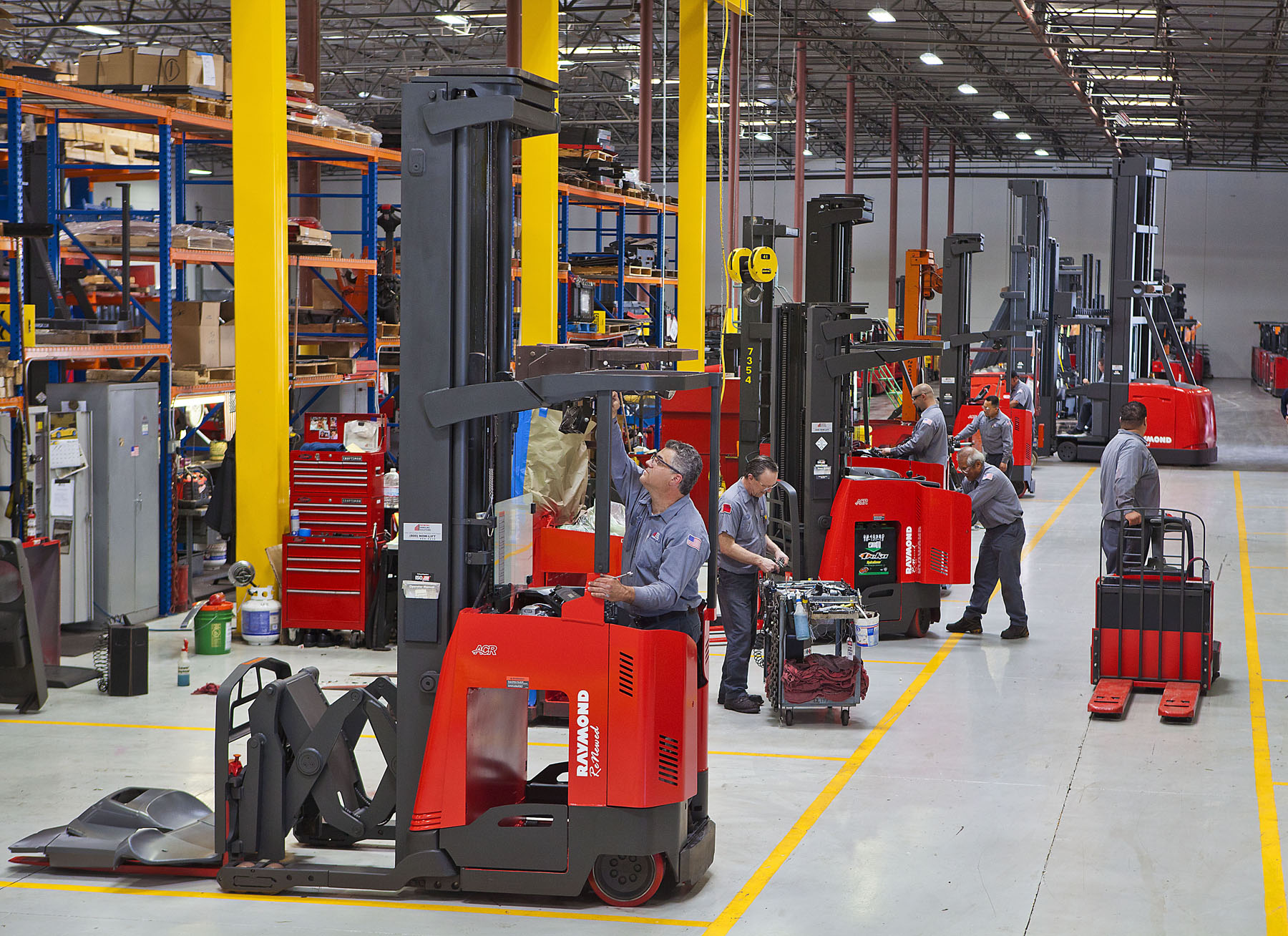 the website. Pre-owned and used equipment is subject to availability because once it sells, it's gone. However, additional lift trucks come in all the time, so we can often act as a fairy godmother to find you an alternative that comes as close to spec as possible.
Quality Guaranteed
When it comes to Raymond RENEWED and Abel Womack, you can buy trucks and reconditioned premium batteries with confidence, knowing you are getting top quality. We'll even set up the charger for you so all your electrician must do is wire it. Certified, pre-owned trucks include a 90-day buy-back guarantee for a full refund, 30-day fork-to-bumper warranty and 180-day major component warranty. If you'd like, we'll even put them on a long term fixed price service contract.
These trucks can be set up for a variety of applications including cold storage and equipped with the features your warehouse requires for smooth functioning.
The average lead time for delivery of new forklifts ranges from 12-18 weeks. Buying a certified, pre-owned lift truck or pallet jack cuts that timeframe down to 4-6 weeks making it the perfect option whether you are a new start-up or a growing, established company in need of equipment sooner rather than later.
We'd love to tell you more about how your business can access current equipment at an affordable price – that won't turn back into a pumpkin at the stroke of twelve.