July 13, 2015 –
Within the last few years, lithium-ion forklift batteries have gone from a mere idea to international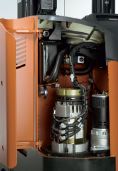 commercial availability. This breakneck movement is the long-awaited fulfillment of an industry need for a better power source than the decade's long reign of lead acid batteries. What began in medical, aviation, space and defense has expanded into the manufacturing and distribution industries.
Any warehouse manager can tell you that battery management is a key to productivity and operational efficiency. Inefficient use of charged lift trucks affects the bottom line. Behind every charging forklift is a driver with downtime. To avoid this downtime, companies have traditionally purchased spare batteries to keep production at full steam ahead- a costly solution to say the least.
Powerful Solutions You Can't Afford to Pass Up
Lithium-ion batteries have 25% greater efficiency than lead acid batteries, have a longer shift life and a double useful life. And because the useful life of lithium-ion batteries is actually extended with opportunity charging, they eliminate much of the need for recharging shifts and the associated driver downtime. Additional advantages include:
Cost Effectiveness: overall cost of ownership is reduced because they last 3-4 times longer than traditional deep cycle battery packs.
Environmental Impact: green technology, environmentally safe, no acid spills. Eliminates risk of injury from battery change equipment and spills. Less hazardous materials. Supports environmental initiatives.
Portability: power on the go! Lithium is very light weight and has a high energy density.
Charging Capabilities: How long will it last compared to lead acid (water based) batteries? The lithium-ion battery packs average less than three hours for a full recharge, do not require water and do not contain acid. Lithium-ion batteries can be repeatedly charged to 100% capacity without an equalization charge, and no cool-down period is needed.
Superior Warranty: While traditional deep cycle battery packs have a warranty of 3-6 months and industrial wet-cell batteries are typically 3 years, the warranty for lithium-ion batteries is 5 years.
Changing the Way You Charge
The Raymond Corporation has recently approved lithium-ion batteries to power their electric walkie pallet jack. As a leader in energy efficiency, Raymond has also introduced the new battery AC technology. Because of these new advancements, Raymond lift trucks last longer than other lift trucks, use less energy and are more productive.
To assess the increased productivity claims, a local egg distributor renting our equipment has been testing the lithium-ion batteries. Over the course of this demo, the initial findings show that the lithium-ion batteries not only far outlast that of their traditional battery packs but require less attention and maintenance. As a result, productivity and workforce efficiency has greatly improved.
If there is a drawback, it would be the initial cost, which for now, is nearly double that of a wet cell industrial battery, and more than double than a typical deep cycle battery pack. For lighter applications, the cost of the lithium-ion batteries might be a deterrent. But in situations involving multiple shifts, over the road usage, minimal access to charging for medium to heavy duty jobs, the payoff will be well worth the initial payment.
Lithium-ion powered forklifts directly support improvements to your operational efficiency while simultaneously lowering costs and CO₂ emissions. We are here to help you with any aftermarket questions, and can walk you through the product options and help you calculate the savings.