January 17, 2022 –
It's no surprise that the economic ecosystem has been disrupted from the pandemic. Supply chain issues have caused a snowball effect with lead times at an all-time high and inventory levels at an all-time low. According to ABC News, consumer prices climbed 7% in the past year, which is the highest jump since 1982. Consumers are paying much more for cars, furniture/appliances, food,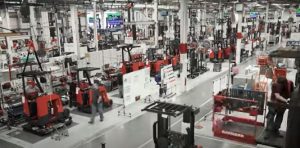 and energy- just to name a few.
The forklift industry is no exception. During the second half of 2021, the bubble seemed to burst. Factory lead-times skyrocketed, which in turn lead to an overwhelming demand for pre-owned and rental equipment. When this is coupled with seasonal demand, dealers across the country found themselves with depleted inventories and scrambling customers.
A new approach
Entering 2022, the industry is faced with a similar situation: low inventory and long lead-times. While many dealers are doing everything they can including proactively replenishing stock, the fact is they are selling fork trucks before they even reach the end of the production line. This is fair warning to reconsider your approach to wait to purchase forklifts thinking lead times will soon normalize. Equipment ordered now won't ship until late 2022 or 2023- depending on model.
Advantages of acting now
Avoid consistent price increases and rising inflation
Reserve a production slot ahead of rising demand
Meet your customer demand
Mitigate unnecessary equipment rental costs until new equipment arrives
A successful approach during the current supply chain situation
Determine your current needs and budget
Schedule a fleet evaluation with an industry expert to explore other ways to move product faster and more efficient
Understand and prioritize a list of equipment that will need to be replaced due to age and/or cost of ownership
Ask for the latest factory lead times and develop a short- and long-term strategy to maintain a healthy fleet moving forward
Lead the way
What you do now will set you and your company up for success and maintain that product flowing through the doors and into your customers' hands.
Prepare now, contact an experienced material handling provider today.