August 12, 2019 –
For Brittany Webb, the near two-year timeline between first speaking with a local client and the close of the project was simply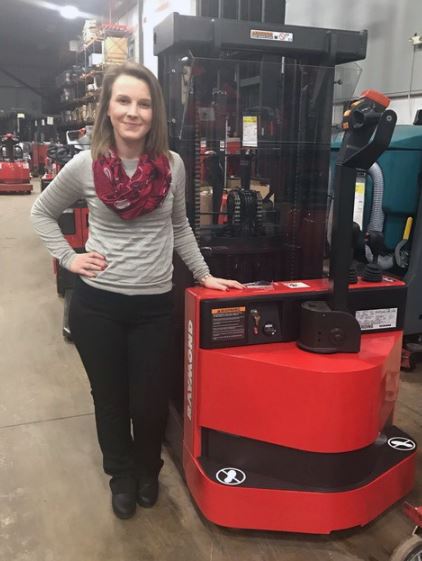 part of the process. In fact, she's still in contact with the client well after project completion.
That type of customer focus has become a staple of Webb's style — and Abel Womack's — for some time now. When you've been in touch with a client on a regular basis for almost two years, it's nearly impossible not to build strong rapport.
For the client, the lengthy process was simply part of the deal. After searching for some time for a new racking system that would fit their new warehouse, a fellow colleague referred them to Abel Womack.
Planning for success
From there the process was relatively smooth. After reaching out to Abel Womack on the phone, the client spoke with a member of the business development team to get a better gauge of the potential scope of the project and possible solutions. The business development team then assigned the client to the local account manager, which in this case was Webb.
The client had 10-foot high rack in their current location, but they were switching to 20-foot high rack, meaning they couldn't reach the top of their storage system with their current forklift equipment. What made this project more unique than others was what the client was storing, which was often fragile, bulky, and very expensive items.
Performance delivered
This is where having a partner like The Raymond Corp. comes in handy. Webb was able to propose the right solution to the client due to having access to an array of high-performance electric forklifts, which have the options needed to manage fragile, precious items.
So, why did this project last as long as it did? Well, the short answer: construction takes time.
The client was in the process of retrofitting an existing building, but as is the case with many construction projects, the timeline was extended, and the date of completion was pushed back. Webb understood this and was more than happy to work with the client on their timetable, even if it meant more than 18 months from start to finish.
"We know projects aren't wrapped up in a week," Webb said. "We provide the same level of vigilant customer service on small, quick turnaround projects and large, multi-year ones."
Unique solutions
One example of a commitment to the customer is the customized cart Abel Womack was able to help facilitate for the client.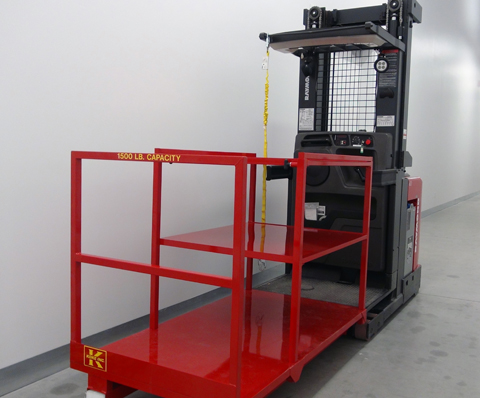 Remember when we said the items were precious, bulky, and expensive? Well, Abel Womack and the client were able to work with the cart manufacturer and lay out what they needed from a safety and security standpoint.
This led to a customized mobile platform that attaches to the reconditioned Raymond forklift. The platform provided the necessary capabilities to safely and securely move and store precious items.
Demonstrate your products
This was in addition to Abel Womack providing free demos on forklifts to the client for a week. Their ability to use them for an extended period enabled them to know if they would solve their current challenges. Webb was quick to add that if the client doesn't have the ability to demo a product, Abel Womack offers demos at all their warehouse locations as well as tours of the Raymond plant.
End-to-end service and solutions
Webb's story might seem unique, but it's really more of a reflecting of how we operate at Abel Womack. Extensive product knowledge and industry experience coupled with effective solutions and exceptional service helps ensure our clients get the best solutions for their unique business challenges, when they need it, and within budget.
Contact us today to learn how we can help your operation increase efficiencies and productivity, and lower costs, no matter how long it takes.