October 3, 2016 –
Often times, articles about material handling products and solutions are written based on large facilities. However, small warehouses in the US outnumber the larger ones, so let's focus on the forklift needs for those smaller users.
A common question material handling equipment salespeople often hear is, "Can I purchase one machine that will do everything I need in the warehouse?" Naturally, the answer to this question varies depending on each application.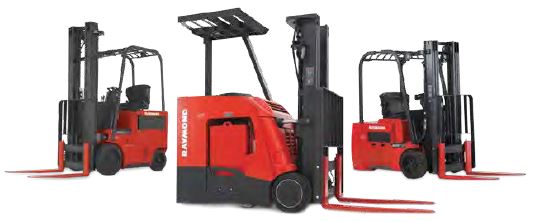 So before I give you a quick run-down of some popular solutions for smaller users, let's discuss what the forklift will be required to do.
Most often, customers receive palletized goods via over-the-road trucks. The pallets need to be moved from the truck to the storage area, and retrieved again when it is time to ship or utilize the contents. They need a forklift that is short and agile enough to enter an over-the-road trailer and pick up the pallet, powerful enough to quickly deliver the load to the warehouse and, if the loads are stored in pallet racking, the truck needs the ability to lift the load to the required shelf height.
The best fork truck to fit all three of these requirements is a counterbalanced forklift. Counterbalanced trucks are forklifts that use a counterweight such that they do not have 'outriggers' or 'base legs' extending beyond the vertical portion of the forks, unlike a reach truck. Counterbalanced forklifts are available in both sit down and stand up versions, and each have specific benefits. Counterbalanced forklifts are considered 'dock to stock' machines, as they are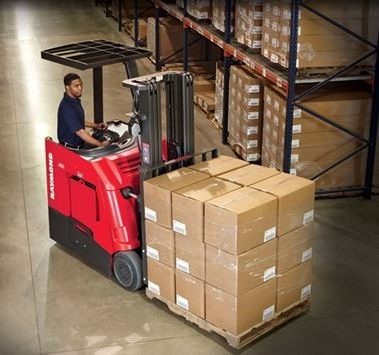 agile enough to unload a trailer (and even pick a double-stacked pallet in the trailer), quick and powerful enough to move the load to the warehouse, and can lift as high as 258" while still being short enough to enter a trailer.
If you are looking for a simple solution to unload, transport, store, retrieve and ship your pallets, look into the counterbalanced forklift market. A great place to start is with the Raymond line up, which includes their sit down models 4450 and 4750, as well as the popular stand up 4150 and 4250 models. These counterbalanced trucks are just as beneficial in a small warehouse, as they are in large distribution centers. You will never outgrow their usefulness.