September 25, 2017 –
Conveyor systems are an effective way to move goods mechanically, without direct labor. In distribution centers, fulfillment operations and eCommerce businesses, conveyor systems serve a vital role as the transportation link between receiving, put-away, picking, and shipping.
Different conveyor systems are designed for specific applications and functions
There are myriad applications for conveyors, as they can handle everything from full pallets and cases to bags and irregular shaped boxes. Conveyor systems perform many vital roles from transporting product, sorting your finished goods to shipping lanes and even taking out the trash. Here are just some of the types and styles available:
Extendable conveyors can be used to reach into your trailers to aid in unloading or loading.
Transportation conveyors move product from point A to point B and allows for the economical movement throughout the facility. They also serve as the main link between the operating areas of your business.
Roller Conveyor
Belt Conveyor
Accumulation conveyors allow packages to queue up and move together with a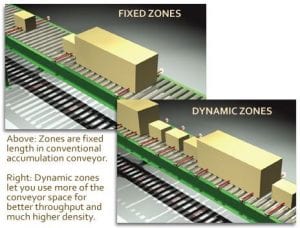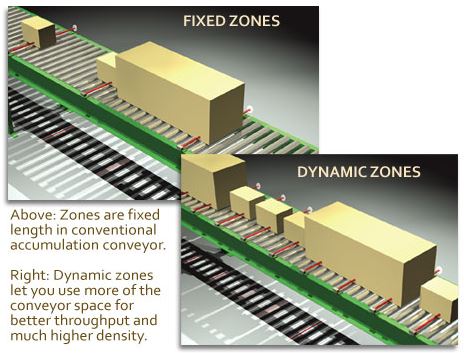 predetermined gap between them. This spacing allows for the precise control, movement, and delivery of product. An accumulation conveyor is also used when space or a gap is needed between the cartons to facilitate the use of zone diverts, print and apply and sortation applications. They are vital if you are conveying fragile items that cannot come in contact with one another.
Roller Conveyor
24 Volt Conveyor
Sortation Systems are controlled by the Warehouse Control System (WCS), which manages the routing and diverts. This allows cartons to be diverted down to discrete shipping lanes for staging, consolidation or shipment. Sortation systems are used to deliver cartons, packages or bags to one of many individual shipping or sorting lanes. These systems can individually sort and deliver up to 250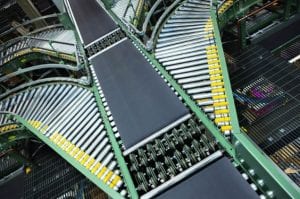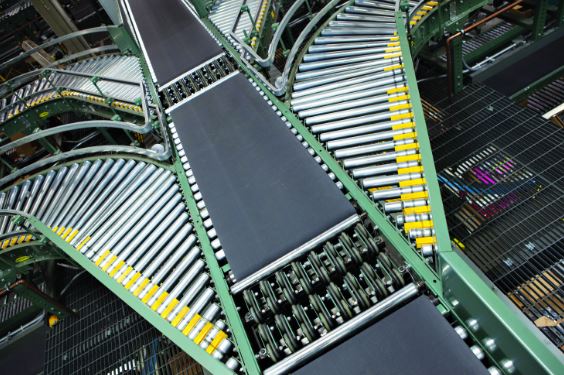 cartons per minute.
Pop-Up diverts
Pushers
Swing Arms
Tilt Tray
Cross Belt Sorters
Shoe Sorters
Special applications include spiral conveyors for the delivery of cartons between floors or for changes in elevation to suit the customer requirements. Special applications also include trash conveyors to take away corrugate, plastic belt conveyors used in medical and pharmaceutical applications and stainless-steel systems used in food processing.
Conveyor systems can only get your productivity so far
The bond that holds conveyor systems together is the WCS. Your company's Warehouse Management System (WMS) will generate the orders and send those orders to the WCS. The WCS controls, operates and directs all the conveyor systems to transport, route and sort your cartons.
With proper design, engineering and implementation, an experienced systems integrator can help you implement anything from a single conveyor unit up to a customized conveying system that will reduce costs, improve performance and offer flexibility to adapt in the future.
Learn more about the different conveyor systems, technologies, services, parts and accessories available.