March 7, 2016 –
In a recent visit to a local well known manufacturing company, I noticed their fork truck drivers continually shuttling back and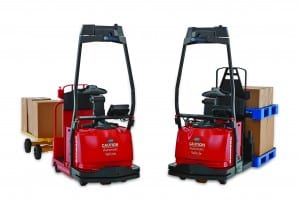 forth from the assembly area to the shipping dock. The distance was over 500 feet each way and it seemed to me all they were doing was transporting pallets from one location to the other. When asked about this, the manager stated, "This is how we've always moved product from final assembly to shipping." I asked if he had considered an AGV for this task. He said he hadn't considered one for this application but would be willing to hear what I had to say.
AGVs are not new; they have been around since the 1950's. What is new is how cost effective the technology has become, the methods of guidance and the increased functionality that this equipment offers.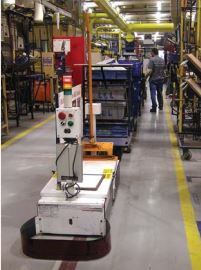 AGVs fall into three main categories:
Automated Tuggers – a power unit pulling a series of non-motorized carts or trailers, each carrying a load.
Automated Unit load handling – specifically designed vehicles that typically carry heavy loads on their forks or bed.
Automated lift trucks (ALTs) – A standard pallet jack or fork lift whose controls have been modified to allow for autonomous operation.
Guidance of these vehicles is handled in a few different ways:
The "old school" method is floor-surface mounted magnetic tape. Magnetic tape is placed on the floor to map out the path of the AGV. Transponder tags are placed under the tape to provide control of the AGV and to perform assigned tasks. The magnetic tape allows for a quick install or change of guide path in as little as a few hours. If the tape is damaged, you pull up the damaged area and replace it. It is inexpensive but not suitable for high frequency operations.
Vision guidance systems utilize multiple cameras mounted in a control head up high on the machine. These systems utilize the cameras as eyes to see and memorize arrays of reference points to guide the vehicle along its paths. To program the desired path, the operator puts the controller in learn mode and simply walks the machine through the desired path. The cameras pick up multiple reference points along the route to guide the vehicle.  The systems can learn and store up to 15 miles of routes.
CAD-based software guidance vehicles utilize mapping and navigation software. The operator initiates the same learn mode as in the vision systems except the on board software creates a CAD drawing of the desired path and any obstacles. These systems not only allow for the programming of desired routes and stops but where the other systems follow a predetermined path, the on board intelligence of CAD-based systems allow the machine to maneuver around obstacles and get back on path.
Growth Opportunities
AGVs handle everything from palletized product to bar stock. Typical applications for AGVs include:
Transportation of raw materials
Kitting operations
Just-in-time (JIT) delivery
Cross docking
Transfer/shuttle loads across high traffic areas or long distances
Work-in-process/finished goods in support of manufacturing production lines
Transportation of product from inbound receiving to stocking areas
The next stage in AGVs is the operation and control of automated vehicles that store and retrieve palletized product at elevation from pallet racking. These vehicles are in development and have been deployed in controlled environments, and their application in mainstream operations will be coming soon.
Benefits of AGVs
Reduced operating costs
Flexibility
Safety
Scalability
Reduction in product damage
Reliability
With rising fixed and variable costs for labor combined with the tremendous advancements in automation and robotics, AGVs and ALTs could be a great investment for both the short and long term needs of your company.
Leave a comment below or contact us if you're interested in learning more about AGVs or exploring how this technology can work for you.