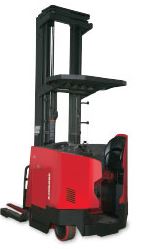 Abel Womack's Usage Program, a warehouse equipment lease program, was designed for our clients who need mobility. The features of the program offer our clients the benefits of a traditional operating lease but with shorter term commitments and the ability to exchange equipment as business requirements change. This is a great option for customers who require equipment for less than five-years or who are reticent about making a traditional five-year commitment but want the economic benefits of a five-year lease. If you're planning a future change in your facility that will require a different type of forklift, but you need equipment now, the Usage Program includes an option to exchange the equipment without the early return penalties associated with traditional leasing.
Keep these great Usage Program features in mind:
Monthly rates are comparable to a 60-month operating lease, but with a shorter time commitment.
The ability to change equipment types or specifications if your requirements change.
Single monthly invoicing, including maintenance coverage, reduces administrative costs and allows for precise budgeting.
Budget and balance sheet benefits of an operating lease.
Superior Abel Womack service available 24/7.

 Aftermarket Services Brochure

Contact us for more information.