Forklift Truck and Material Handling Parts Consignment Program
Whether you have Raymond or mixed forklift fleets, Abel Womack can manage a custom on-site inventory for your business. We provide secure storage lockers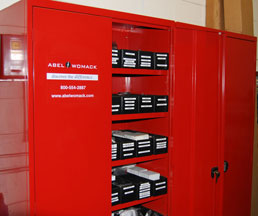 with no upfront cost. Regular visits from expert parts representatives ensure a properly stocked inventory. Parts are not billed until they are used.
Benefits of Parts Consignment Program
No upfront cost to customer – setup and installation are complimentary
Immediate parts availability – eliminate time placing orders and waiting for delivery
Increased uptime – parts are on hand so you can get your equipment running fast
Freight savings – parts are replenished at no charge
Usage Reports – eliminate inventory challenges

Contact us for information about material handling parts consignment program today or search for parts online.
Abel Womack offers forklift parts in Connecticut, Maine, Massachusetts, New Hampshire, New York, Rhode Island, and Vermont.