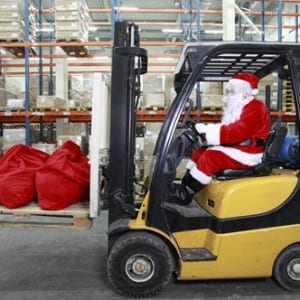 Click here to view original web page at blog.kinaxis.com
There's just no escaping it. Despite the fact it's barely into the beginning of fall, the holidays are coming—quickly. And while we all know Santa's supply chain just can't be beat, some retailers may have an extra hard time trying to give the jolly old man a run for his money this year.
Material Handling & Logistics reports frantic shoppers should have no difficulty elbowing their way through the crowds and getting their hands on perfect presents for everyone on their list. Import cargo volume at major retail container ports has been increasing steadily and is on track to meet or surpass last year's levels. However, finding enough happy little elves to pack and ship all those gifts may prove a tall order.
According to the Washington Post, the American retail industry is expected to add around 755,000 temporary workers during October and November—the same number as previous years. But due to the popularity of online shopping and the rise of free shipping policies, retailers are changing up their hiring plans, staffing more warehouse workers and fewer cashiers and greeters.
As the Wall Street Journal points out, that could cause big headaches thanks to a potential labor shortage in the industry. That shortage is the result of a seven-year low in the national U.S. unemployment rate. Couple that with the fact big retailers have been rapidly building and expanding warehouse and distribution centers and suddenly hiring managers are starting to feel a lot more in tune with the Grinch.
Some employment agencies are already reporting trouble finding warehouse workers to stock, pack and ship holiday inventory, forcing them to raise base pay rates. The WSJ notes starting wages are rising by up to $3 an hour in some markets as retailers get desperate to attract and retain the talent they need this holiday season.
Adding to the issue is the fact supply chain managers will be dealing with even more complexity than past years. Supply Chain Management Review, referencing a Pitney Bowes survey, shows consumers' demands will be higher than ever this season. They plan to shop both in-store (94 percent) and online (92 percent), both from a computer and a mobile device. For those utilizing cyber shopping, 93 percent say shipping options are an important factor in their overall shopping experience. That's up 23 percent from 2014. They also want options when it comes to returns – in-store, via a shipping provider or through a courier.
It's that litany of demands, particularly surrounding shipping, that CNBC says makes holiday shopping more cutthroat for retailers every year. The race for the lowest free shipping threshold has already begun with Toys R Us announcing they're dropping minimums to just $19. That prices them below giants Wal-Mart ($35) and Target ($25). It appears as if retailers are prepared to take a hit to their margins in order to court customers.
So how is all of that going to influence the supply chain? Businesses may need to find ways to do more with less. More volume with fewer workers, more options with a lower profit margin, more orders with fewer days to ship them out, and more holiday cheer with less reason to celebrate.
Is your supply chain ready for the rush of the holiday season? How are you preparing to take on Santa's supply chain? Let us know in the comments.