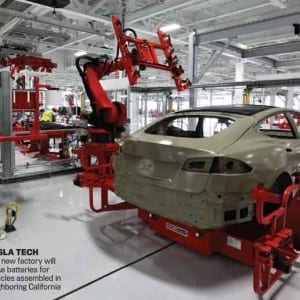 Click here to view original web page at chiefexecutive.net
Was wooing TESLA worth the huge incentives Nevada made to close the deal—and what, exactly, does that deal mean for the rest of the states vying for business?
It may be decades before the world knows whether Tesla and its battery-powered cars comprised a game-changing industrial revolution or more of a pipe dream, and if Nevada gave away too much of its economic future to obtain the company's battery-making "gigafactory."
However, Tesla's decision to build a five-million-square-foot mega-operation near the airport 25 miles east of Reno already has roiled economic-development expectations across the country and reset the arc of American manufacturing.
Nevadans are giddy as they watch Tesla move the earth around a 1,000-acre plot in the desert. They're understandably keen on the economic prospects of thousands of people working at Tesla at promised average wages of around $25 an hour. They're also hoping for positive economic knock-on effects that they expect to grow over the decades as the plant turns out up to 500,000 battery packs a year. The amount would be more lithium-ion batteries for electric cars than will be made by the rest of the world combined.
For his part, Tesla co-founder and CEO Elon Musk likes the location for several reasons. It's close to the company's assembly plant and major customer base in California. It's near the nation's only known deposits of lithium. Plus, he got a fantastic deal. Nevada threw open the doors to the state treasury to promise Tesla an astounding incentive package worth $1.3 billion, ranked as the tenth-largest such lure ever used by any state. The final sweetener seemed to be Nevada's promise to move heaven—as well as earth—to clear any regulatory obstacles.
"No matter how you slice it, the deal makes utterly no sense. It is just one more example of a government giveaway for a factory that would have been built anyway."
"The gigafactory will mean nearly $100 billion in economic impact over the next 20 years," Governor Brian Sandoval said after a two-day special session of the state legislature in September essentially handed Musk the keys to a Nevada economy that had been wheezing along on gambling, mining and tourism for way too long. At the signing ceremony, Sandoval added, "Isn't this a great day for Nevada? This is as big as it gets."
But lots of questions remain about a deal that is supposed to grow the Nevada economy by 80 percent during the next few decades. Some question whether Nevada can possibly supply all the skilled labor necessary. Some worry about the coming stresses on Reno-area infrastructure that won't be met because the necessary public funds have been incentivized away. Others bemoan the inflationary effects on construction costs and operations for other companies that may want to follow Tesla there as suppliers or retailers that want to tap into a population that is sure to burgeon beyond its current 225,000.
Actually, many are saying that Nevada got fleeced. "No matter how you slice it, the deal makes utterly no sense," says Richard Florida, director of the Martin Prosperity Institute and professor of business and creativity at the Rotman School of Management, University of Toronto. "It is just one more example of a government giveaway for a factory that would have been built anyway."
Gambling on Growth
Even beyond this critique lies the prospect for the ultimate disaster: After Nevada gave away the farm to Tesla, will the world really need all those batteries that are supposed to be streaming out of the gigafactory several years from now? Following a half-century of technological development and almost as many years of promotion by environmentalists, government policymakers and progressive politicians, the market for electrified vehicles (EVs) remains extremely anemic overall. Sandoval and other Nevada government officials placed a huge bet on the technological, economic and social vision of Musk. But is what the industrialist sees ahead clairvoyance—or illusion?
"The reality is that there are numerous big gambles occurring here," says Brett Smith, an analyst for the Center of Automotive Research in Ann Arbor, Michigan. "Realistically, the EV is not ready for prime time. The high-volume, battery-powered vehicle is a long way off despite the success of the [Tesla] Model S. For the most part, it isn't a viable alternative right now."
Was wooing TESLA worth the huge incentives Nevada made to close the deal—and what, exactly, does that deal mean for the rest of the states vying for business?
One thing is for sure: There's no turning back for Nevada. It beat out four other states—Arizona, New Mexico, Texas and California—to land the Tesla plant after Musk promised it would put the state at the forefront of a new era of manufacturing. Nevada's desire eclipsed even strong public pushes by Governors Brown and Perry of California and Texas, respectively, to add Tesla to the many economic jewels already on their state belts.
Tesla's exact commitment is $5 billion in investment in the first four years and then another $5 billion in equipment purchases from 2019 to 2028, plus an attempt to generate "up to" 6,500 jobs eventually. In exchange, Nevada doled out $1.1 billion in sales tax plus real and personal-property tax abatements. It has no individual or corporate income tax—meaning that Tesla essentially will operate tax-free in Nevada for at least a decade. The state threw in $195 million in transferable tax credits that Tesla can sell to other businesses. Musk also wrangled a discounted electricity price even though he claims the factory will generate all of its own power from renewables, meaning that Tesla will be able to tap into the state's power then sell its self-generated power for a premium.
The sheer and mostly successful audacity of Tesla's demands already promises to up the ante the next time another company wants a big greenfield site, a fairly regular occurrence amid the continuing renaissance in domestic manufacturing. Jaguar Land Rover, for example, has indicated it now plans to set up a U.S. factory to better compete with the many other luxury brands that make cars in America.
"Now we'll see companies say to states, 'Give us a tax-free period like Tesla got."
"This deal, where you're not going to pay state taxes for an extended period of time, has usually only been on the table in highly economically distressed areas," says Larry Gigerich, managing director of Ginovus, an Indianapolis-based economic development consulting firm. "Now we'll see companies say to states, 'Give us a tax-free period like Tesla got.'"
Questions also lurk about exactly how much the gigafactory can expect to expand the Nevada industrial economy. Clearly, as Musk has noted, the diamond-shaped complex will become a tourist attraction. It will spark surrounding hotels and restaurants, set off a boom in house construction in Reno and fuel local service businesses to support the rising Tesla workforce. But no matter how large, the complex isn't likely to serve as the platform for concentric circles of new supplier factories in the area because a battery plant is much more self-contained than an auto-assembly operation, which forms the hub of an extensive supply chain, Florida noted.
Moreover, early in his hyping of the gigafactory, Musk talked about it as the home for a research facility as well as a manufacturing plant. However, the likelihood is that most of Tesla's technological development will still occur at its headquarters in Palo Alto, California, smack in the middle of Silicon Valley, while Tesla's final assembly plant remains nearby in Fremont, California.
Tesla actually broke ground at the Reno site in July and began shoving around some dirt, with Musk explaining that he was still keeping his options open on a final site decision. That claim strained credulity in many. But the hoopla around the gigafactory was largely a matter of trusting the credibility of the South African-born entrepreneur. He could drive a hard bargain because of what his accomplishments and because, with Steve Jobs gone, no other industrialist or technologist could spin future scenarios quite like Elon Musk.
Indeed, Musk's record for building businesses on brand-new ideas is almost unparalleled in modern times. A native South African who emigrated to the U.S. from Canada as a college student, Musk co-founded PayPal more than a decade ago. Since then, he also established SpaceX, a company that was nearing planned flights of space tourists in 2015 before other companies' fatal accidents in late 2014 seemed to set back the notion of the privatization of space. Musk also owns the largest-capitalization solar-energy business.
Was wooing TESLA worth the huge incentives Nevada made to close the deal—and what, exactly, does that deal mean for the rest of the states vying for business?
There's also Tesla. Musk's EV startup launched the $70,000-and-up, all-electric Model S and the car became the "it" thing for celebrities and the wealthy, outlasted other EV startups and began changing the equation for existing car companies. The Model S became the highest-rated car ever by Consumer Reports and spooked the German luxury-car brands into crash programs to launch their own electric vehicles after initially they had demonstrated indifference about the technology. It helped that Musk kept painting pictures of a rosy future for EVs and aggressively defended his car and his company against every skeptic, from Wall Street to the news media.
Energizing EVs
Now with the gigafactory it is building along with Panasonic, Tesla is bidding to dominate what Musk sees as a certain burgeoning of global demand for lithium-ion batteries that power the new generation of plug-in hybrids and all-electric vehicles. He has said that bringing the costs of these batteries down by 30 percent would be crucial to fielding EVs at mainstream prices that are necessary for popularizing the technology. Tesla itself plans a "Model III" sedan in 2017 with a 200-mile range and a starting price around $35,000. The obstacles remain daunting.
The company itself still hasn't recorded an annual profit based on standard accounting principles. "Tesla is throwing around big numbers, and I'm sure that something of a large magnitude is going to occur there," says Scott Kupperman, founder of Kupperman Location Solutions, based in Lake Forest, Illinois. "But I'm not sure it will pan out the way they say it will. It's an industry with a lot of volatility and a product [version] that hasn't been made before."
"I'm not sure it will pan out the way they say it will. It's an industry with a lot of volatility and a product [version] that hasn't been made before."
And Musk still has to overcome what is essentially an aversion to EVs held by most Americans who aren't wealthy or trendy enough to afford a Model S, which can easily be outfitted to demand a price of $70,000 or more. Tesla's U.S. sales have actually leveled off lately as Tesla diverts resources to new markets, such as China.
Plunging gasoline prices and continual improvements in the fuel efficiency of internal-combustion engines keep pushing general-market demand for electrified vehicles out at least several more years. GM and others now plan to compete with the Tesla Model III with their own new, mainstream-priced EVs Meanwhile, Toyota has abandoned its recent cooperation with Tesla on an EV and instead is betting big on hydrogen fuel cells as the alternative fuel of the future.
"Reducing costs by 30 percent, as Musk claims the factory will do, isn't alone going to open up EVs to that vast majority of the auto market who still want gasoline-powered cars," says Smith of the Center for Automotive Research. "And the factory isn't going to be at that efficiency level when it opens its doors because it won't be at anywhere near capacity for a long time."
Indeed, ultimately, Musk may have to count only on social, cultural and regulatory pressures—generated by alarm over climate change and his ability to get people to believe in his vision of the future—in order to create "demand" for his all-electric cars in a marketplace where they couldn't survive on their own.
But in the here and now, Reno-ites are scrambling to take advantage of their godsend. Law firms and CPAs are sniffing for new space around town, as well as manufacturers, and land costs are rising. "It was just like a rocket took off when rumors started swirling about Tesla," says Brian Armon, managing partner of the Cushman & Wakefield commercial real-estate office in Reno. "Animal spirits are strong right now."
Sidebars:
The Icing on the Cake— A Deal to Deal Direct