United Natural Foods, Inc. (UNFI) is North America's largest distributor of organic and natural foods.  In keeping with its core message of sustainability, UNFI has replaced lead acid batteries and their associated charging equipment with hydrogen fuel cells at their new Sarasota, FL distribution center.  The 352,000 SF facility, which employs approximately 160 associates, serves as a regional distribution hub for customers in the Southeastern United States.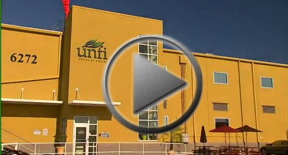 Click here to view the new hydrogen fuel cell powered lift trucks at the new UNFI Sarasota, FL Distribution Facility
Abel Womack partnered with UNFI and several other firms to retrofit the existing lift trucks and add 29 new Raymond hydrogen fuel cell powered lift trucks to the Sarasota facility. The project is intended to improve the efficiency, productivity and reliability of the lift truck fleet.
Tom Dziki, Senior Vice President of Sustainable Development, commented, "This project is a natural extension of our strategy to create an environmentally and socially responsible environment in all the communities we serve.  Hydrogen fuel cells not only provide greater productivity and lower operating costs, but will be an important component of a clean energy future, and we are happy to be pioneering the use of this technology in Florida.  Once implemented, this fuel cell projects is expected to creat annual energy savings of approximately 640,000 kilowatt hours."
To learn more about the benefits of fuel cell technology, click here.