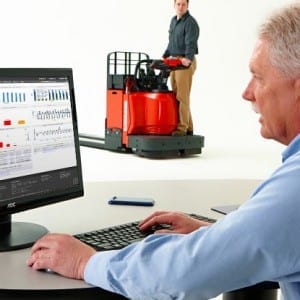 January 26, 2015 –
The time has come for anyone with a fleet of five or more lift trucks to strongly consider using software tools to help you manage them. It's a concept that has been growing in popularity for many years and has now pretty much hit the tipping point. To me, it's a no brainer for large fleets but has become so cost effective that even small fleets should take notice.
The technology consists of hardware that plugs into the central computer in your lift truck, an operator display and wireless technology that speaks with and shares data with remote servers. Physical installation per truck ranges from about one and a half hours for late model trucks (post 2007) to four hours for older trucks.  It's that simple.
There are alternatives, but I'll share information on Raymond's iWAREHOUSE® fleet and warehouse optimization system, as that's what we are most familiar with. Although highly scalable, we'll distill the options down to two- iWAREHOUSE EssentialTM and iWAREHOUSE EnterpriseTM.
iWAREHOUSE Essential is best applicable to sites with 100 trucks or less. It only costs about $65/month/truck, all in, and provides the following benefits:
Each type or specific lift truck can only be operated by people approved (licensed) to drive that truck. This is simply done by requiring the operator to swipe their badge to use the truck.
OSHA requires operators to complete a daily safety checklist. Once a shift, an approved operator must complete the checklist and all data associated with it is time and date stamped and digitally stored for, God forbid, an OSHA audit.
Since we know who is operating the lift truck, we now can track what's going on, including impacts (accidents), % of time working (driving and/or lifting), nature of the work being done, total time logged in per shift, etc.
The ROI is largely preventing unauthorized use of your trucks and better driving behavior- which invariably happens when operators know that you know. Better driving not only results in fewer impacts and reduction of product, truck and rack damage, but increased productivity through accountability. Last but not least, it acts as insurance as it forces following the regulations and proves that you are doing so, providing powerful ammunition against OSHA assaults. Considering its cost, it can be a home run over time.
iWAREHOUSE Enterprise can be applied to smaller fleets but is more common for large fleets, particularly for companies with multiple locations. At about $100/month/truck, it provides all of the above plus so much more. With iWAREHOUSE Enterprise, you will be provided incredible amounts of rich, real-time information (not just data) that allows you to 'right size your fleet', manage in detail each operator's performance and have complete visibility to maintenance so you can intelligently manage operating expenses.
Our experience shows that most large fleets have about 15% more equipment than they need. Once you determine the quantity and type of trucks you actually need, you can evaluate individual operator performance, compare shifts, compare sites and pretty much know your operations inside and out.  The end game is to eliminate/redeploy the excess equipment and lower labor costs through attrition or reassignment. The savings speak for themselves and the ROI is often less than a year.
If you're considering a fleet management solution, what real-time information do you think would be most beneficial?