Abel Womack provides engineering services and material handling equipment for the retail and department store industry. Distribution centers like the Appleseed's apparel warehouse use conveyor and other material handling equipment to optimize warehouse space, increase throughput and improve warehouse operations to get their products to retail outlets.
Raymond Lift Trucks for the Retail and Department Store Industry: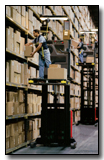 Reach Fork Trucks
Orderpickers
Swing-Reach Trucks
Pallet Trucks and Tow Tractors
Walkie Stackers
Stand-up Counterbalanced Trucks
3-Wheel Sit-down Counterbalanced Trucks
4-Wheel Sit-down Counterbalanced Trucks
Hand Pallet Trucks
New Balance Athletic Shoes used Raymond orderpickers to maximize efficiency in their warehouse operations.
Contact us for more information on how Raymond lift trucks can improve performance in your facility.
Other Material Handling Equipment Options:
Hytrol conveyor rapidly moves product through a warehouse. Hytrol has many sortation and specialty conveyor options to meet a client's needs. The renovation at Rolf Hagen's warehouse in Mansfield, MA used over 2,000 feet of conveyor.
J1-TSV task support vehicle has a compact design capable of supporting many workplace applications, from warehouse to retail.