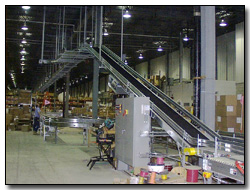 Delta Education has been serving educators for more than 30 years by providing the best in K-12 inquiry-based science and math materials and language arts products.
With over 14,000 SKUs, Delta had various product sizes that required different storage mediums. To help Delta reach its goals, Abel Womack re-engineered Delta's replenishment and picking processes to utilize the storage cube more efficiently.
Delta gained the ability to:
12 Kardex Remstar horizontal carousels free-up room for expansion.
Receive and store in product families.
Batch pick several orders at once.
Manage their two busy seasons without additional labor.
Eliminate physical inventory through a cycle count program.
Abel Womack redesigned the warehouse through a phased approach that focused on bulk storage, finished goods and the fulfillment operation.
Improvements included a conveyor system with divert capabilities and a tote return system, 12 Kardex Remstar carousels utilizing light trees and batch lights, shelving and carton flow rack, as well as very high aisle, high bay equipment.