March 22, 2021 –
Wayne Badstuebner joined the company in 1992 when it was known as Womack Material Handling Systems. He wanted to make a career change after spending 15 years in the printing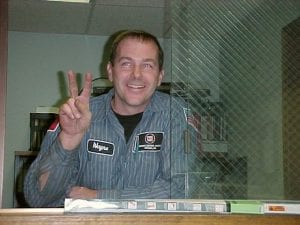 industry. So, he answered an ad in the newspaper for a field service technician since he was good at working with his hands and it sounded like something he would like to do. At that time, Womack employed about 25 people. Tim McDermott, the service manager back then, told Wayne after his initial interview that he liked what he had to say but he failed the technician electrical test. The good news is Tim gave Wayne an opportunity to study some materials and come back in a few weeks to try the test again. That's exactly what Wayne did, and this time he passed with no problems! This was the start of a long, successful, and mobile career.
You Can Always Count on Change
Womack expanded its presence into the NY territory in the mid 1990's when it took over that territory from another Raymond dealer. This growth led to a need for a forklift trainer and Wayne was asked to take on the additional responsibility. Off he went to the Raymond Corporation to complete the Training program.  Back then, some employees wore multiple hats and Wayne performed these dual roles for several years. During this time, he also added another tool to his tool belt and became one of the company's earliest Kardex Remstar technicians when we took on that product line.
Several years after working as a technician/trainer, Wayne was approached for a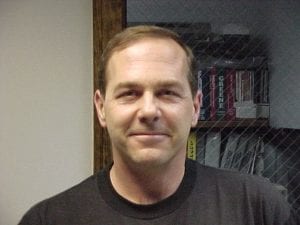 customer service position and stayed in this role for several more years. After a very brief stint away, Wayne rejoined Abel Womack as a field service technician once again. Fast forward five years or so, he moved into the role of customer service manager and remained there until four years ago. Once again, an opportunity arose, and Wayne moved into his current and final role with Abel Womack as Service Manager for the CT territory.
When asked about his favorite role over his 29-year career, Wayne quickly said a field service technician. Wayne also added, "As a field service tech you have the opportunity to build great relationships with your customers and keep them happy. It's great when you walk in their door and they are glad to see you even though they have equipment that is broken. They know they are in good hands and that you are going to take good care of them. Plus, you've got the freedom of driving in your van from job to job. It's the best job in the company!"
Many Advancements
Looking back over the last three decades, Wayne said the biggest change he's seen has been the incredible advancements in the technology. He explained, "Everything used to be on paper since there were no laptop computers and very few cell phones." Wayne remembered there was lettering on the service vans that said cellular dispatched, cutting edge for the time (1992). He also mentioned that technicians all carried pagers so that dispatchers could get in touch with them. Technicians also had calling cards for making long distance calls and would have to find a pay phone to reach Raymond Field Service. Remember those?  Wayne remarked, "Now, things happen much faster and more efficiently, there is so much information at a technician's fingertips, it's incredible."
Forklifts also have changed. Wire guided trucks were the most advanced technology at the time when he was hired and now, we're seeing completely computer controlled autonomous trucks. He did mention that, in some respects, it was easier to fix an older fork truck because they weren't as technically advanced, and it was easier to pinpoint problems. But, with electronic information at our fingertips today, it certainly makes it easier to find what you need to help with repairs.
Some other notable differences Wayne observed over the years was how the size of the customers and their fleets have grown, especially grocery accounts. Customer's technology also has expanded with many businesses having more information and data at their fingertips. Wayne pointed out how it's more of a science to manage a customer and their pain points these days. He said, "By extracting data to see where the customer is spending their money, and how to lower those costs, we can really open their eyes to show how much and where they're spending and help them reduce costs, and that's rewarding."
Culture is Key
Wayne noted that in our Connecticut facility, just about every office is currently occupied by an individual who started at an entry level position, wanted to work hard, and was given the opportunity to grow. He said, "Many employees start as a technician but very few retire there. It can be a demanding job on your body over the years so it's nice to have the opportunity to move around."
What makes a person stay with a company for nearly three decades? Wayne said fondly, "It's a family environment where we build many relationships, not just with employees, but customers and vendors too! I've been blessed to have had dynamic leaders at Abel Womack who have been great to work for."
Although excited about the future, Wayne's emotions are bubbling up the closer he gets to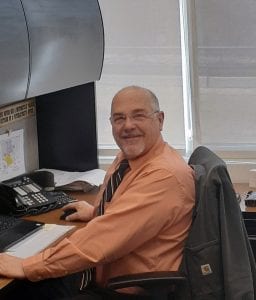 March 31st. Wayne remarked, "I'm going to miss the people the most. Many have helped me out, guided me, spilled sweat with, and it will be hard to say goodbye. I'll miss the camaraderie for sure. I've had a great run and I've really enjoyed coming to work every day."
Wayne's Next Move
Wayne said he's looking forward to reinvigorating some old hobbies he hasn't had much time to enjoy, like flying RC airplanes, playing more golf and fishing. "When my day starts at 7am and I get home at 6pm, it doesn't leave a lot of extra time," said Wayne. He's also going to help one son with his business, spend more time with his 13 grandchildren, visit another son and his family in Europe, and just hang out, relax, and unwind. He's earned it.
Wayne will be greatly missed by the Abel Womack team as well as our customers. We appreciate all his hard work and have many fond memories to keep. We wish Wayne all the joy and happiness in the next chapter of his life. The best is yet to come ol' friend.