March 6, 2017 –
Let's say you're in the market for a new warehouse racking solution. The racking you once installed is simply not cutting it anymore. Maybe it has gotten damaged over time, doesn't address your new product mix or you simply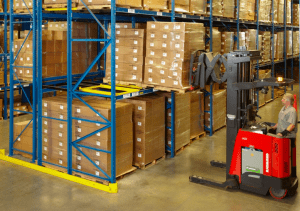 need more storage but still have time left on your lease. That is the time to re-evaluate your existing rack system and make the necessary changes to maximize its value for your current space.
The lease costs per square foot is usually about 20 percent of the overall storage costs once you factor in racking and the trucks to service it. So if you don't maximize the storage capacity in your existing space and need more storage later, you'll incur unnecessary expenses trying to find a solution to a problem you might have managed at square one. You'll need to consider what products are being stored in your facility, the mix of pallets, cases and break pack, their shelf-life, size, weight, and fragility of the products.
There are several different rack options to choose from. Each option has its own benefits depending on the nature of your product, your storage space requirement, and the types and number of forklifts you're using. Here is a rundown of each racking option:
Selective Racking
Selective rack offers the most flexibility in your warehouse and is one of the more common solutions. Using this type of racking, the worker never has to move one pallet to get to another. T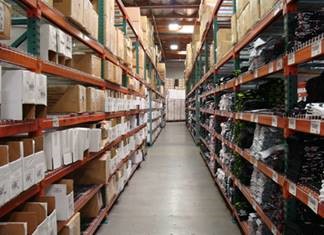 his is great for efficiency, especially if you have a multitude of SKUs and pallets to access. You'll have direct access to every pallet and it's adaptable as your warehouse grows. The downside is that it does not offer the ability to store as many pallets as some of the other solutions.
Deep Reach Rack
Deep reach racking is a great choice when you have a limited number of SKUs and can manage the shelf life of the product. Since you're storing two pallets deep from each aisle, it is a cost-effective solution to maximize storage density if your product mix supports its use.
Pushback Rack
Pushback racks are ideal for products that are similar in nature and have long shelf-lives. This first-in-last-out system is great for when you're trying to store as many products as possible into your space. Its ability to store pallets up to six deep on either side of the aisle provides one of the highest storage densities available.
Drive-Through/Drive-In
Drive-in/drive through racking is an excellent choice for high-density, low space storage. This system allows forklifts to drive directly into the rack. The downside to drive in or drive through rack is the lack of selectivity and since forklifts can drive directly into the aisles, this system is more prone to damage. It's important to purchase a durable rack system from the start, and ensure your racking is protected by the proper rack guards.
Pallet Flow
This is a first-in-first-out pallet system that allows the user to load from one side and pick from the other- using gravity to move the inbound pallets down the rails. It's a great storage system to load a high quantity of products with expiration dates, and for when you really need to save space and efficiency.
Carton Flow
Carton flow is similar to pallet flow but offers the flexibility of storing items that are not on a pallet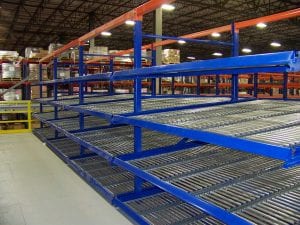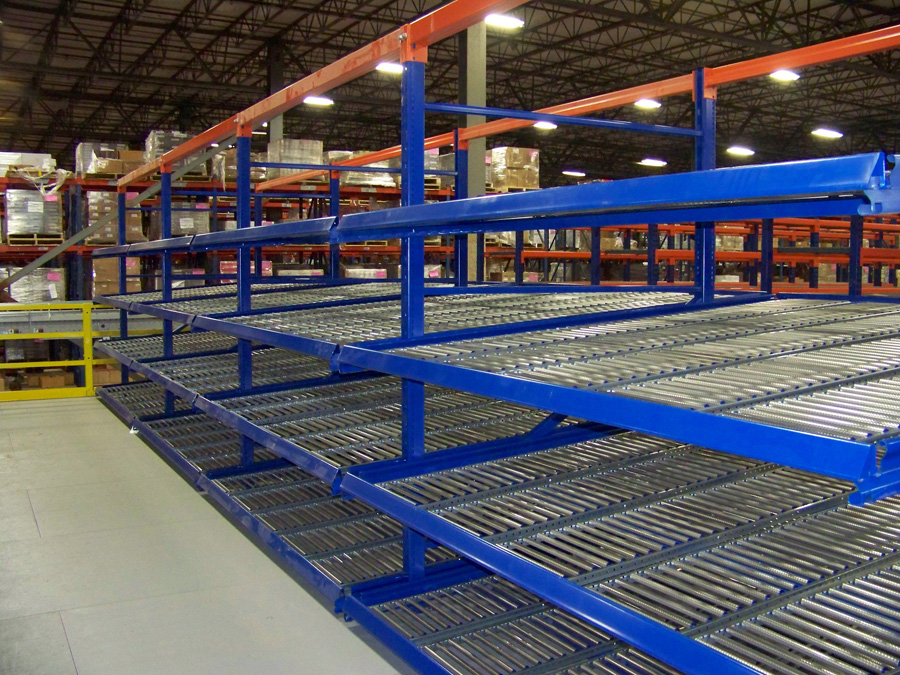 and move quickly. It offers the ability to maximize the amount of product stored in rack without the wasted empty space. While more expensive per square foot of storage, this system is needed for cartons and totes.
Mobile Racking
This mobile solution allows you to create an aisle only when it is time to deposit or retrieve a load. It's great for WIP or any slow moving or seasonal products. You can end up with up to 60 percent more pallet positions than selective rack but with full accessibility to every pallet.
Putting Them All Together
Choosing the right racking solution may not seem like a big deal but it pays to do your homework. Getting professional advice from a material handling provider can help you determine the best storage solution for your space, safety requirements, regulations and operational requirements, and forklift expertise.
To figure out which rack system and storage solution is right for your needs, contact one of the material handling experts at Abel Womack to discuss the racking option best for you!