September 12, 2022 –
VLM Principle
The Vertical Lift Module (VLM) Shuttle XP is an enclosed modular system consisting of vertically arranged trays stored in the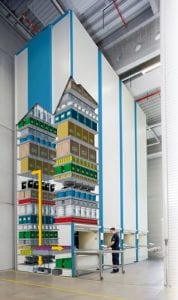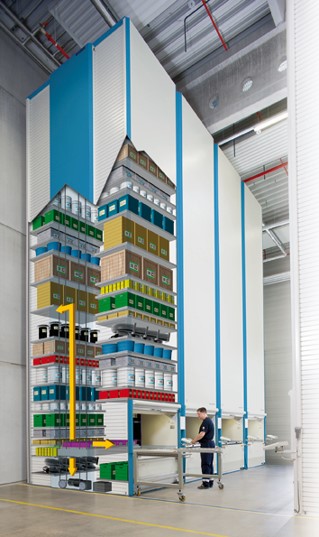 front and back of the units. There is an extractor device much like an elevator located in the center, which automatically stores and delivers trays with the correct items to the access opening with the push of a button or the scan of a bar code.
The Shuttle XP automatically scans every tray with the use of Cubestar® technology, finding the ideal storage location within the system in increments of one inch. Depending on the ceiling height, at least 85% of a conventional storage system occupied floor space can be recovered. Items are stored in the least possible amount of space for maximum storage density. An elementary way to think of the VLM would be an elevator shaft in a center aisle that goes up, latches a tray, and brings it to the access opening. They can be controlled by software that interfaces with your WMS or via a simple keypad.
Megamat Principle
The Megamat RS vertical carousel consists of shelves or drawers that rotate up or down via the shortest route, automatically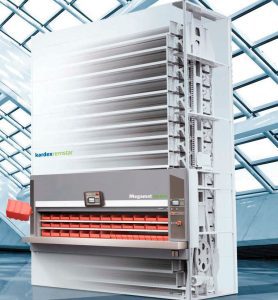 delivering stored items to an operator at an ergonomically positioned pick window. The average product height can be customized to fit as many shelves as possible in each unit to maximize storage space. Each unit is compatible with an entire suite of software and controls or can be used as a standalone solution. Think of a vertical carousel like a carousel you would see at a fair, but on its side.
If you are not familiar with this technology, it can be hard to visualize. Even if they were familiar, to the naked eye, both units look remarkably similar from the outside. Their functionality, however, is completely different. A question frequently asked by customers is which application is best for our business? This is nearly impossible to answer without conducting a site survey and understanding your current operation. From manufacturing facilities, to warehousing, to hospitals, to life science and aerospace companies, each application is similar but different. Despite their differences, Kardex Remstar's Power Pick Global (PPG) software is used for both.
PPG Principle
Adding PPG software into your processes helps you to increase productivity and become much more efficient. It allows you to batch orders and perform multiple picks, increasing throughput.
PPG also greatly affects pick accuracy. From standard validation via barcode, handheld scanner, or weight control, to a wide range of others such as Pick-to-Light, Put-to-Light and Laser/LED Pointer, Kardex Remstar's Power Pick Global reduces operator errors and increases picking accuracy. And thanks to the software integration, user and group rights can be controlled and managed; each access to the system can be tracked and retrieved, increasing security. All Power Pick Global software solutions are based on the latest Windows® technology and can interface with the majority of tier one and tier two WMS and ERP providers, making integration simple. To top it off, some PPG packages are extremely simple, with the ability to add more functionality down the road.
Here are two videos to help you better understand how each machine works. Once we determine a company's current situation and future goals, we can determine which unit is best. Vertical storage is a long-term, flexible solution. It is important to determine where your company sees itself tomorrow, in a year, and five+ years down the road, because as a trusted advisor, we want to help you grow your business to its full potential. Contact one of our specialists for more information today.